Biden's 'open border' called out by sheriff after killings of mom and baby: US citizens 'are in danger'
President Biden's "open-border policies" are being called out in the wake of a "cartel-style" execution of a teenage mother and her baby, which California law enforcement believes is either drug cartel or gang-related.
Tulare County Sheriff Mike Boudreaux said on "America Reports" Wednesday that soft-on-crime policies in the state and the "unsecured, open border" are leading to more crime.
"I'm very upset with the Biden administration, and not clearly seeing that the citizens of the United States are in danger. This case alone truly lets everyone know that it can happen in any community throughout the state of California," Boudreaux told host Sandra Smith, calling it a "flat lie" for the administration to claim the border is secure.
The sheriff said on Tuesday the shooting left six people dead, including a 72-year-old grandmother.
RELATED: Tulare massacre: Mother, infant among 6 killed execution-style were trying to escape
Rep. Kat Cammack, R-Fla., said the "horrific murders" and young people being "trafficked" all over the United States are because of the open-border policies.
Cammack said on "The Faulkner Focus" that the cartels "control 40% of Mexico as we know it," including critical parts of the government and infrastructure. She said the cartels "subcontract out" murders and other nefarious activities to gangs in the U.S.
"This is horrific and it is all a result of the open-border policies by Joe Biden," she said.
Former DEA Special Operations Director Derek Maltz said on "Fox & Friends First" that "every single American needs to be really upset about what we're seeing."
"We've never had any terrorist group like al Qaeda, ISIS, Hezbollah, killing like this. Soft-on-crime policies, north and south of the border, is hurting public safety," he explained.
Maltz said we are "rolling over to the Mexican government" and warned, "it's only going to get worse because right now the cartels are building momentum."
RELATED: California family of 6 killed in cartel-style execution: Sheriff
Maltz described the cartels as "monsters."
"They go after the kids, and they go after the women now, because this is like a new level of intimidation, executing people, shooting them in the head."
The victims were identified during a press conference as Rosa Parraz, 72; Eladio Parraz Jr., 52; Jennifer Analla, 50; Marcos Parraz, 19; Elyssa Parraz, 16 and Nycholas Parraz, 10-months-old.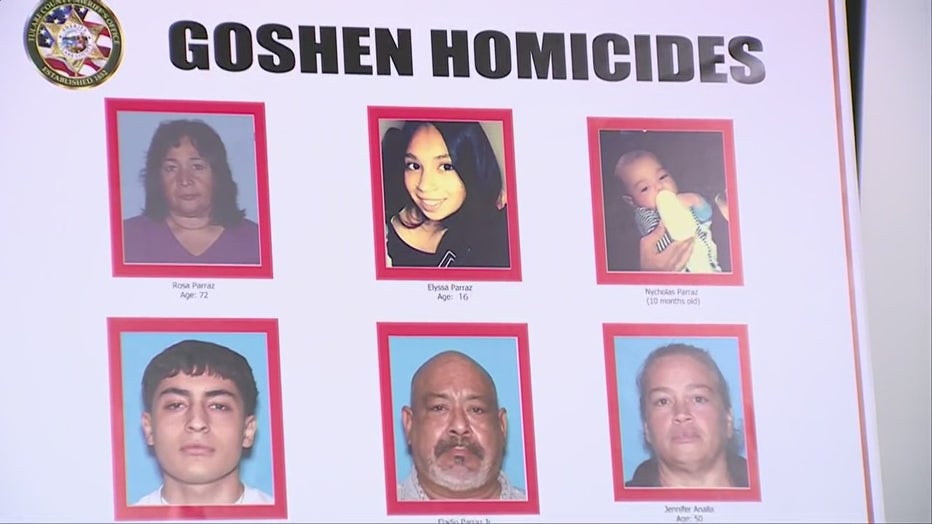 A week prior to the shooting, a search warrant was conducted at the home for drugs, and according to Boudreaux, deputies found drugs, ammunition and weapons.
On Tuesday, Boudreaux said investigators working around the clock collected hundreds of pieces of evidence and he expects more to be discovered. He also asked businesses and residents nearby to check their surveillance video that was recorded between 3-5 a.m. on Monday morning, and if they find anything suspicious, to notify the sheriff's office.
The Tulare County Sheriff's office is offering a $10,000 reward for information that leads to an arrest. 
Anyone with information about this incident is asked to contact the Tulare County Sheriff's Office at 559-733-6218. Tipsters can remain anonymous by calling or texting 559-725-4194 or through email at tcso@tipnow.com.
Get updates on this story at FOXNews.com.