Artificial intelligence helping detect early signs of breast cancer in some US hospitals
BOCA RATON, Fla. - Some doctors believe artificial intelligence is saving lives after a major advancement in breast cancer screenings. In some cases, AI is detecting early signs of the disease years before the tumor would be visible on a traditional scan.
The Christine E. Lynn Women's Health and Wellness Institute at the Boca Raton Regional Hospital found a 23% increase in cancer cases since implementing AI during breast cancer screenings.
Dr. Kathy Schilling, the medical director at the institute, told Fox News Digital the practice has nine dedicated breast radiologists who are all fellowship trained, so the increase in early detections was surprising.
"All we do is read breast imaging studies, and so I thought, you know, we were probably pretty good at what we were doing, but this study really comes in shows us that even the dedicated and committed breast radiologists can do better utilizing artificial intelligence," Schilling said.
CHAT GPT ANSWERED 25 BREAST CANCER SCREENING QUESTIONS , BUT 'IT'S NOT READY FOR THE REAL WORLD'-HERE'S WHY
"ProFound AI," created by iCad, is designed to flag problem areas on mammograms. The program studied millions of breast cancer scans and, over time, learned to circle lesions and estimate the cancer risk.
"If you realize that 90% of the cases are benign and have no findings, you know, you just become fatigued. You get mesmerized by scrolling through the images. The AI helps us to refocus and find those little tiny cancers that we're looking for," Schilling said.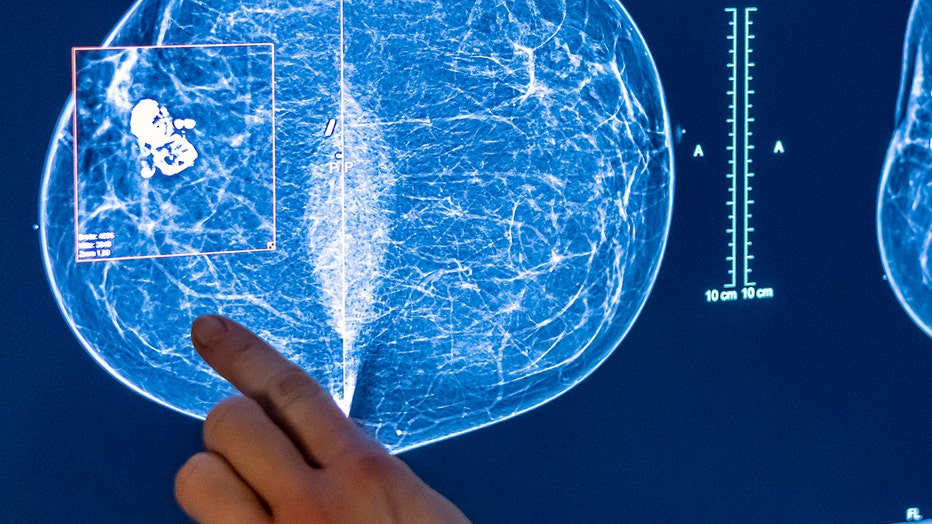 Medical personnel use a mammogram to examine a woman's breast for breast cancer. Photo: Hannibal Hanschke/dpa (Photo by Michael Hanschke/picture alliance via Getty Images)
ProFound AI became the first technology of its kind to be FDA cleared in December 2018. The Christine E. Lynn Women's Health and Wellness Institute adopted the groundbreaking technology during the COVID-19 pandemic, and the hospital now boasts one of the earliest studies on AI's impact on cancer.
"What I think we're going to be finding is that we're finding cancers when they're three to six millimeters in size, and finding the invasive lobular cancers which are very difficult for us to find, because they don't form masses in the breast," Schilling said.
Schilling also stated that over the past two years, the institute has offered less severe therapies to patients diagnosed with breast cancer because the cells are so small.
"We are doing smaller lumpectomies, fewer mastectomies, less chemotherapy, less radiation therapy," she continued. "I think we're entering into a whole new era in breast care."
ARTIFICIAL INTELLIGENCE IN HEALTH CARE: NEW PRODUCT ACTS AS 'COPILOT FOR DOCTORS'
Schilling also believes AI's early detection capabilities may have helped save Luz Torres' life after a routine mammogram on April 1 revealed a small cancerous tumor. Torres said she had no symptoms or inclination that something could be wrong.
"I have very dense breast tissue, so I always have a mammography and an ultrasound. The recommendation of that visit was the breast biopsy, so I had that done within a week's time, and then I got a phone call that the pathology was breast cancer," Torres said in an emotional interview. "It was an early detection. I come every year, I'm on track with my mammography, so it's very small tumor."
RELATED: New FDA rule requires info on breast density with all mammograms
Torres was diagnosed with stage 1 breast cancer in early April and recently completed surgery. Fortunately, she is expected to make a full recovery after early detection.
"It looks good. Because it was called early stage 1, I won't need chemotherapy so very happy about that," said Torres, who described the institute as "amazing." 
"The desire to improve the technology for the patients to find this breast cancer in patients early when it's treatable, and the prognosis ends up being great. I'm fortunate enough to be one of those patients. It's a blessing," she concluded.
Several companies have released AI products with the ability to flag abnormalities during cancer screenings. Doctors are also using AI to detect brain cancer, lung cancer and prostate cancer.