'Acapulco has been destroyed': Hurricane Otis blamed for 27 deaths as survivors recover from historic storm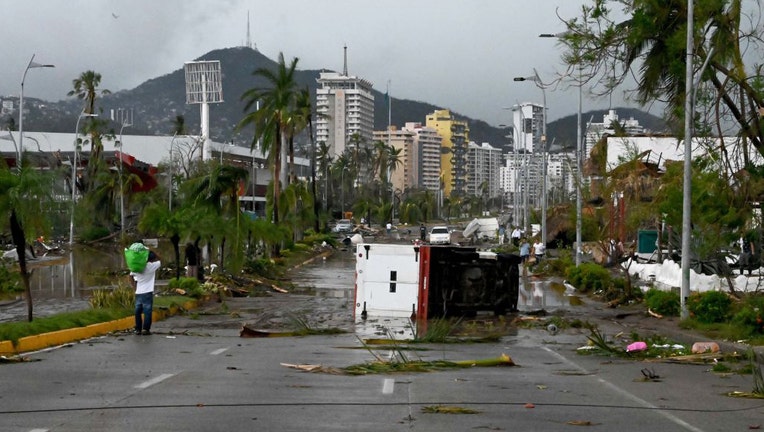 article
ACAPULCO, Mexico - Acapulco, known as the Pearl of the Pacific, is recovering after being pummeled by deadly Hurricane Otis, the most powerful storm on record for the Pacific coast of Mexico.
As of the latest update from officials, Otis has been blamed for the deaths of at least 27 people, while four individuals are still unaccounted for in the region.
Acapulco was severely damaged, with buildings and infrastructure crumbling under the might of the Category 5 hurricane. The beach resort is now left in darkness, without power or communication – a haunting reminder of the devastating power of Hurricane Otis.
As the ferocious hurricane made landfall in the southern state of Guerrero, Jaime Villanueva and his friend, Barbara, found themselves seeking refuge on the 21st floor of the Solar Ocean Hotel. 
HURRICANE OTIS LEAVES BEHIND 'NIGHTMARE SCENARIO' AFTER STRIKING ACAPULCO, MEXICO
People pass by part of a road which was washed away at the Kilometro 42 community, near Acapulco, Guerrero State, Mexico, after the passage of Hurricane Otis, on October 25, 2023. Mexican authorities rushed to send emergency aid, restore communications and assess damage in the Pacific beach resort of Acapulco on Wednesday after a powerful hurricane left a trail of destruction and tourists stranded. (Photo by RODRIGO OROPEZA / AFP) (Photo by RODRIGO OROPEZA/AFP via Getty Images)
The raging Otis relentlessly pounded the building as they huddled together, bracing for the worst. The sound of howling winds and crashing waves outside was deafening, and the two feared for their safety as the hurricane raged on.
"This truly seems like a lie. What is this? We are alive," Villanueva said. "I don't know how we are alive, but we are alive."
As the Sun rose, the true impact of the chaos was revealed, and Villanueva was left to witness the heartbreaking aftermath. The view below him was a harsh reminder of the devastating power of nature.
HOW DID HURRICANE OTIS' RECORD INTENSIFICATION CATCH ADVANCED FORECAST MODELS BY SURPRISE?
"You're kidding," Villanueva exclaimed as he gazed upon the post-storm chaos. "Acapulco has been destroyed."
After the hurricane, Villanueva reached the ground level and recorded the damaged hotels caused by Otis. 
His footage shows the aftermath of the Category 5 monster, with ceilings and walls ripped open, shattered windows, submerged cars and debris scattered all around. Downtown Acapulco was littered with the remnants of mangled trees. 
Hurricane Otis had also caused damage to infrastructure, leaving the residents disconnected from the outside world due to downed telecommunication lines.
Mexico's National Guard continues to try to clear roadways leading to coastal communities. Despite the damage, no fatalities have been reported so far, but it remains early in search and rescue operations.
The remnants of Otis are expected to produce additional rainfall totals between 4 and 6 inches through Thursday across Guerrero and the western coastal sections of Oaxaca. This rainfall will produce flash and urban flooding, along with mudslides in higher-terrain areas.