2023 Atlantic hurricane season: Here's what to know about this year's storms
The Atlantic basin hurricane season is here, and if cyclones in 2022 created any lessons, it is that it only takes one to make the year memorable.
The U.S. mainland only saw three landfalling tropical cyclones last year, with Hurricane Ian topping the list for being the most destructive.
The Category 4 hurricane caused an estimated $114 billion in damage and was blamed for more than 150 deaths from the Caribbean to the mid-Atlantic.
The season was quieter than what some forecasters anticipated, and as the new season gets underway, significant questions remain on how busy it could be with an El Niño pattern emerging over parts of the Pacific.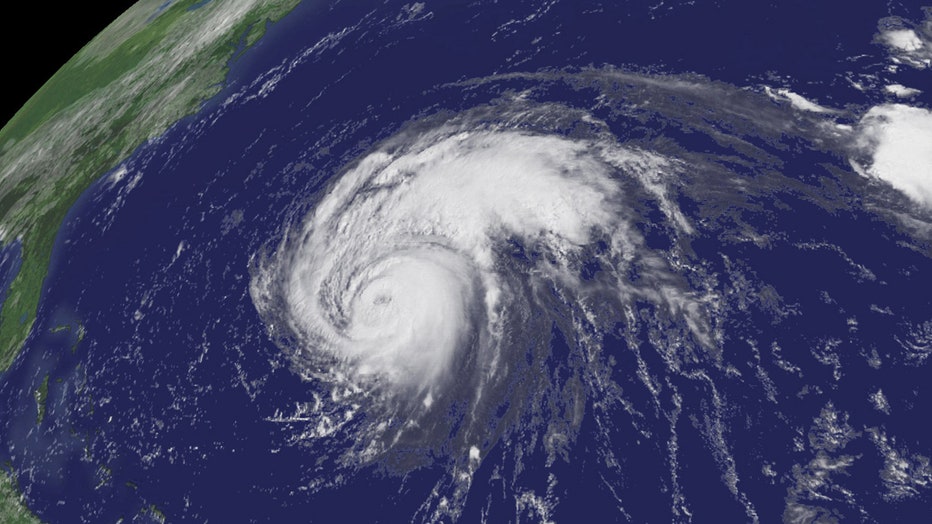 In this satellite image handout from National Oceanic and Atmospheric Administration (NOAA), Hurricane Bill churns 820 miles southeast of Cape Hatteras, North Carolina August 21, 2009 in the Atlantic Ocean. According to NOAA, Bill, the first hurrica
El Niños are known to suppress tropical activity in the Caribbean, Gulf of Mexico and Atlantic Ocean due to vertical wind shear and cooler water temperatures.
"Forecasting an El Niño can be very challenging! If you get a weak El Niño and have a relatively warm tropical Atlantic, you can still get a very busy Atlantic hurricane season. However, historically when El Niño events have exceeded 1.0 °C warmer than normal, these seasons have typically been below average for Atlantic seasonal hurricane activity," Phil Klotzbach, lead author of the CSU outlook, stated.
RELATED: Experts increase number of storms expected in 2023 Atlantic hurricane season
FOX Weather Hurricane Specialist Bryan Norcross spoke with Research Scientist at Colorado State University Phil Klotzbach about the thought process into their latest 2023 hurricane outlook. 
New enhancements to forecast products
The National Hurricane Center started issuing a 7-day tropical weather outlook on May 15, 2023.
The previous 5-day tropical weather outlooks had been in operation since 2015, but forecasters believe the two-day enhancement does not significantly impact the product's reliability.
The color-coding scale, with yellow indicating a low probability of development, orange a medium likelihood and red with a high likelihood of development, did not change with the added two days on the outlook.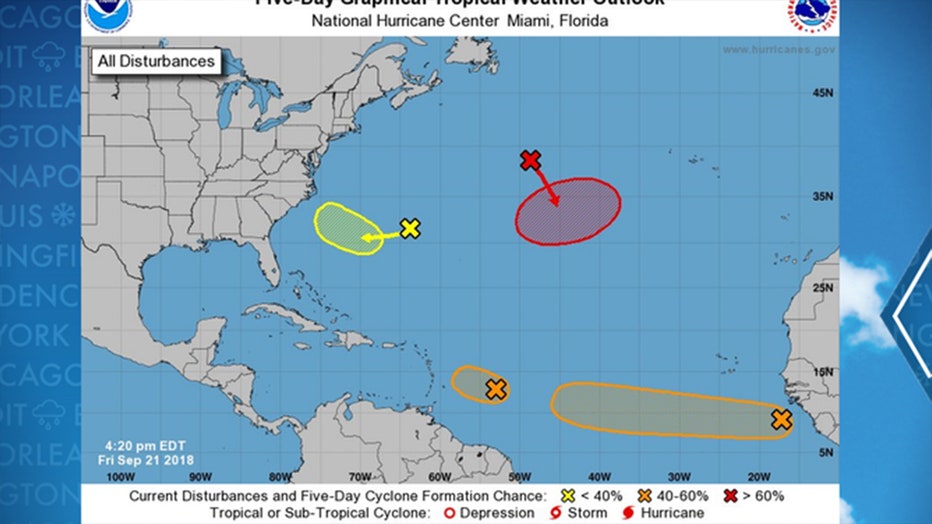 Old version of tropical weather outlook. (Credit: NHC / FOX Weather)
The NHC annually updates its forecast cone to take into consideration errors from previous hurricane seasons.
This year, some parts of the cone are larger than in previous years, indicating previous forecasts contained some errors. Other parts are narrower, which implies NHC forecasters have gained skill, and there is less room for error now.
For forecast cones in 2023, the widths for the first 24 hours will be exactly the same as they were in 2022.
At 36 hours out, track cones will now be 2% larger, which is only about 1–2 miles different from last year's.
The biggest differences will be seen for hours 60 and 120.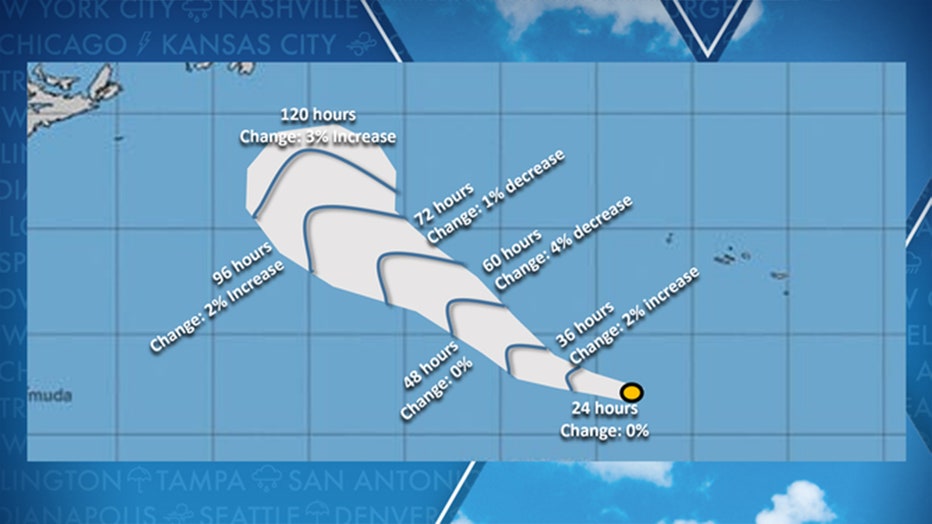 Hurricane forecast cone changes for the 2023 season. (Credit: FOX Weather)
The width of the new cones will be 4% smaller than in previous years at hour 60, which indicates a greater skill at getting hurricane forecasts correct in the short term.
At the 5-day mark, or 120 hours out, the cone will be expanded by 3%, indicating increased uncertainty with longer-term forecasts.
Storm surge alert products upgrades
NOAA says it has upgraded a critical model that will enhance its capabilities of accurately predicting dangerous storm surges.
The agency said it is now using Probabilistic Storm Surge model 3.0, enabling forecasters to track simultaneous hurricanes and improve depictions along varying terrain along the U.S. coastline.
The enhancements are expected to be especially helpful for surge, tide and wave impacts to Puerto Rico and the U.S. Virgin Islands.
FOX Weather Hurricane Specialist Bryan Norcross explains how the upgrade will enhance forecasts of storm surge during tropical cyclones and hurricanes.
2023 Atlantic hurricane season predictions
Colorado State University outlook: Experts led by Phil Klotzbach believe the 2023 hurricane season activity could be slightly below normal. The CSU team expects 13 named storms. Of those, six could become hurricanes, and at least two could become major hurricanes.
National Oceanic and Atmospheric Administration outlook: Instead of a specific number, NOAA releases ranges with its forecasts. NOAA expects a range of 12 to 17 total named storms. Of those, five to nine could become hurricanes, which includes one to four major hurricanes. The agency said it has 70% confidence that activity will fall in these ranges.
North Carolina State University outlook: Similar to NOAA, university forecasters released a range of possible season activity and expect 11 to 15 named storms to form in the Atlantic basin this year.
Of the expected 11 to 15 named storms, six to eight could become hurricanes, with the possibility of two or three of these storms becoming major hurricanes.
United Kingdom Met Office outlook: The newest tropical weather outlook was released by the United Kingdom's national weather service and calls for what could be a very active season in the Atlantic basin with around 20 named storms and 11 hurricanes. Just under half of the hurricanes could reach major status with winds that climb to at least 115 mph.
2023 Atlantic hurricane storm names
Twenty-one storm names make up this year's list. The last time there was a cyclone named Arlene, Bret and Cindy was back six years ago in 2017. The season also produced significant hurricanes such as Harvey, Irma, Maria and Nate. 
The World Meteorological Center retired these storms due to the deaths and destruction they caused and replaced the names with Harold, Idalia, Margot and Nigel.
Here are the 2023 hurricane names: 
Arlene (Pronunciation: ar-LEEN)
Bret (Pronunciation: bret)
Cindy (Pronunciation: SIN-dee)
Don (Pronunciation: dahn)
Emily (Pronunciation: EH-mih-lee)
Franklin (Pronunciation: FRANK-lin)
Gert (Pronunciation: gert)
Harold (Pronunciation: HAIR-uld)
Idalia (Pronunciation: ee-DAL-ya)
Jose (Pronunciation: ho-ZAY)
Katia (Pronunciation: KAH-tyah)
Lee (Pronunciation: lee)
Margot (Pronunciation: MAR-go)
Nigel (Pronunciation: NY-juhl)
Ophelia (Pronunciation: o-FEEL-ya)
Philippe (Pronunciation: fee-LEEP)
Rina (Pronunciation: REE-nuh)
Sean (Pronunciation: shawn)
Tammy (Pronunciation: TAM-ee)
Vince (Pronunciation: vinss)
Whitney (Pronunciation: WHIT-nee)