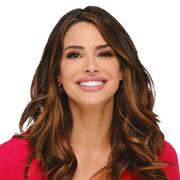 Jennifer Lahmers is an anchor on Good Day LA from 6-9 a.m. Lahmers joined the FOX 11 family in February 2023. She is an award-winning journalist whose career has taken her all over the country -- from Jackson, Tennessee as a reporter, producer and anchor, to Hartford, Connecticut as a humor columnist, weekend anchor and journalist whose investigations won her Associated Press awards, to New York City where she hosted Good Day Wake Up, to Extra where she serves as weekend co-host and correspondent on the Emmy award-winning nationally syndicated entertainment news magazine EXTRA, airing weeknights on FOX 11.  
Lahmers also serves on the advisory board of the Kinsey Institute, which is the nation's leading research center on human sexuality and relationships. She is a strong advocate against domestic violence after the tragic death of her friend and colleague in 2009. 
The role Lahmers is most proud of, however, is that of mom. She gave birth to her son Ethan in November 2021 and will forever be marveled by the power and beauty of motherhood-- and the ability of Sesame Street songs to get trapped in your head all day long. 
Lahmers is a graduate of Ohio University's E.W. Scripps School of Journalism in Athens, Ohio.