Virtual reality helping grieving people connect with lost loved ones
LOS ANGELES - Virtual reality might seem less virtual and more reality as the technology continues to improve.
In Korea, a documentary is sparking debate about the value of using VR to reunite a mother with her dead 7-year old daughter.  
Jang Ji-Soon dons a VR headset and haptic feedback gloves. Her family looks on as she walks around a green screen backdrop. What Ji-Soon sees, is enough to make her burst into tears. 
In the VR goggles, she sees her daughter Na-Yeon come out from behind a wood pile and exclaims, "Oma! Oma! Where were you? I missed you". 
In Los Angeles, Peter Martin is the founder and CEO of V.A.L.I.S Studios. His company produces VR and AR (augmented reality) experiences, but not the one featured in the Korean program.
"The technology they used, is extremely advanced."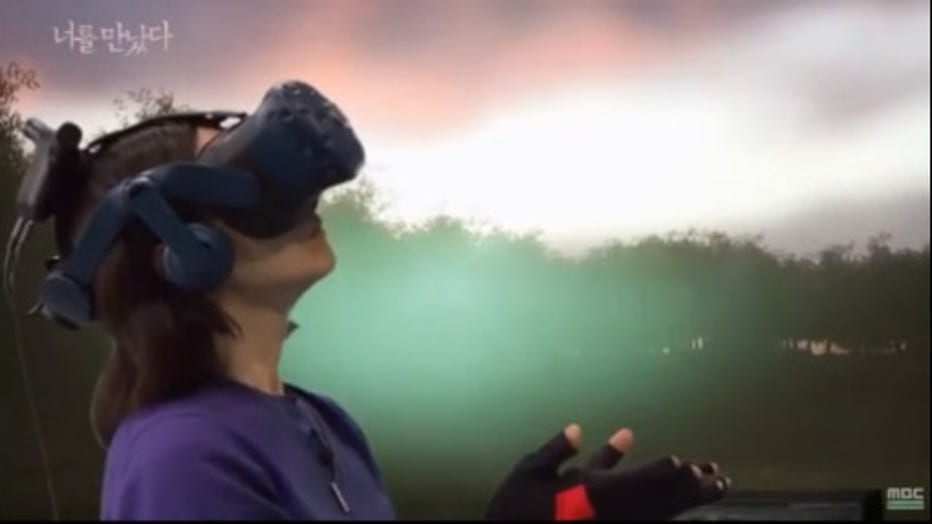 The image of the child was photo realistic and so was the park she used to play in with her mother. The haptic feedback gloves add yet another layer to the VR.
"When you see the video and you see the other reaching out. She can feel through the gloves her child's hair," Martin said.  
Martin felt this particular VR experience was produced for maximum effect to get the mother to react. Her cries while interacting with her VR daughter suggest this virtual reality, to her isn't virtual at all.
"To me, I feel like we are in dangerous territory right now. I don't think we know enough about the psychological impact of this technology." 
We shared the video with psychiatrist Dr. Manuel Saint Martin.
"My first impression is, it's a useful tool for someone grieving a loss," Dr. Martin said. He says while VR experience might not shorten the grieving process, it might help to make the parent get back to a functional life more quickly.  
"The parent may have things, unresolved issues with a child that they want to express and being able to express with a therapist is one thing but being able to express it directly to a child in virtual reality is another and might be better." 
Martin estimates producing the VR experience cost a million dollars, so this kind of bespoke VR experience will not be readily available anytime soon.  
Still, considering how fast technology can become more affordable, perhaps, it's worth some thought on whether "reuniting" with a dead loved can help or hurt the grieving process.