Super Scoopers are back in L.A. to help fight wildfires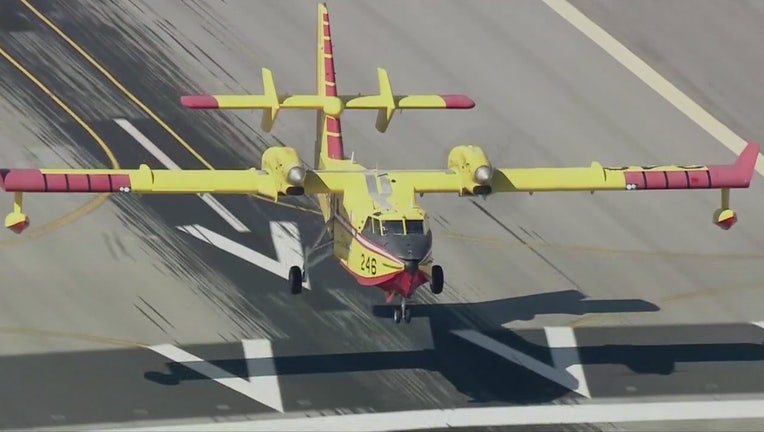 VAN NUYS, Calif. (FOX 11) - It is expected to be a busy fire season and a reliable tool to help battle wildfires is the super scoopers. The big yellow planes arrived to Los Angeles from Canada just in time for fire season.
"When we start getting our Santa Ana wind events. It's critical to have them here for that time of the year," said Chief Daryl Osby with the LA County Fire Department.
The water-dropping fixed wing planes are a crucial part of the Los Angeles County Fire Department's firefighting effort.
The county has been leasing the two planes and pilots from Quebec for 26 years.
"We are very proud of this technology and as I mentioned it's invented by one of our flag ship companies bombardier."
Each plane carries 1,600 gallons of water - divided into four compartments. Pilots can drop as little as 400 gallons or the whole load with the push of one button. And they work in tandem, taking an average of only 12 seconds to refill.
"It is something to see. The accuracy and precision when they come down and hit the water and then fly up and they do it within seconds. These pilots are the best of the best," said LA County Supervisor Kathryn Barger.
Chief Pilot Stephane Monette from Quebec is one of the super scooper pilots. He's been coming to Los Angeles for 21 years now.
"It's a little like a home away from home," he said. 
The planes are stationed at the Van Nuys Airport with pilots ready to go at a moment's notice and are leased for 90 days in a contract that can be extended and most often is.
Depending on how long the fire season lasts, the cost for the super scoopers could be anywhere from $3 to $4 million dollars; expensive but cost effective and very necessary.
"When you see the super scoopers come to LA County you know that you're in the most critical part of fire season. So just a reminder to all our citizens who live in wildland areas to remain vigilant. "
In Canada they're not called the super scoopers, they are simply referred to as CL 415's, an important tool in Quebec's firefighting effort.