Pursuit ends with suspects ditching car in middle of the 110 Freeway in South LA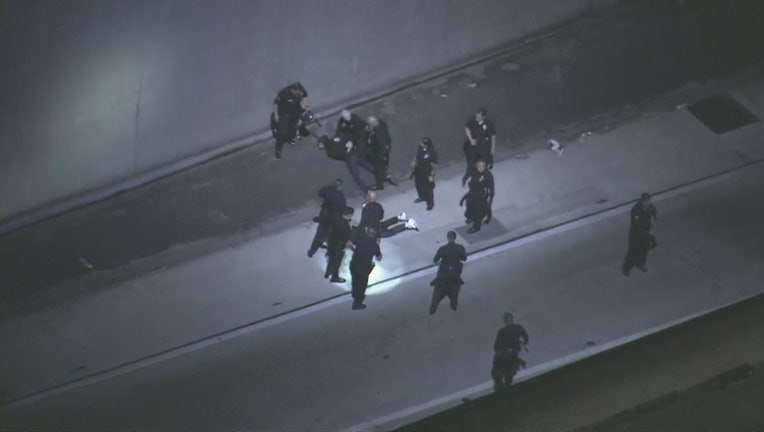 LOS ANGELES - A pursuit that ended in the middle of the 110 Freeway in South Los Angeles Monday evening shut down several traffic lanes and created a heavy traffic backup.
Several lanes on the southbound and northbound side of the 110 Freeway near W. Vernon Avenue are currently closed. It's unknown when the freeway will fully reopen.
WATCH: Pursuit in South L.A.
Two suspects are in custody after ditching their vehicle in the middle of the freeway near Vernon Avenue and dodging traffic on foot. Their identities were not immediately known but authorities believe they are from a local gang and may have been armed during Monday's chase.
The suspects bailed out on foot after driving on the wrong side of the freeway and getting a flat tire, according to officials. They then ran through the embankment that separates the north and south side of the freeways before they were caught.
The suspects jumped out of the vehicle while the car was still in motion. It eventually crashed into the center divider where it came to a full stop. No injuries were reported.
Authorities say the pursuit started around the area of 52nd Place and McKinley Avenue after officers discovered the suspect vehicle was taken in a carjacking on Sunday.
No further details were immediately known. The investigation is ongoing.