Police, space agency are investigating unknown object found on Australian beach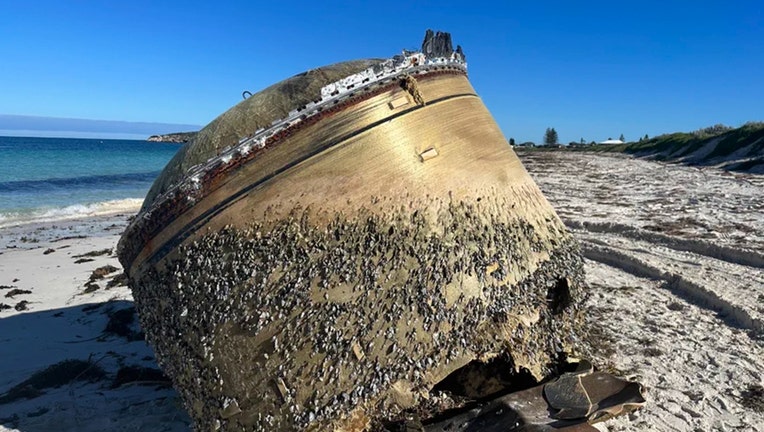 article
Officials in Australia are currently investigating a mysterious unidentified dome that recently washed up on a remote beach.
According to the Australian Space Agency (ASA) and the Western Australia Police Force (WAPF), the object was found near Jurien Bay in Western Australia. 
"The object could be from a foreign space launch vehicle and we are liaising with global counterparts who may be able to provide more information," the ASA said on Twitter Sunday. 
Since the object's origin is unknown, officials asked the community to avoid handling or attempting to move the metal object.
"The object is being treated as hazardous until the origin of it can be established," the police force said in a statement Monday. "People in the area should keep a safe distance." 
Until further information is available, police also urged everyone to refrain from drawing conclusions, but did say, in the early stages of the investigation, it appeared the object did not originate from a commercial aircraft.
"In order to maintain the integrity of the investigation, officers from the Western Australia Police Force are currently guarding the object," police added. "This measure has been taken to ensure the preservation of potential evidence and facilitate further expert examination." 
RELATED: World UFO Day: New investigations show growing acceptance in science, government
If anyone in the community spot any further suspected debris, officials said they should report it to local authorities and notify the ASA via space.monitoring@space.gov.au
"We are committed to the long-term sustainability of outer space activities, including debris mitigation, and continue to highlight this on the international stage," the ASA continued.
Police officials also said they are committed to maintaining open lines of communication and will provide updates as soon as significant developments arise.
This story was reported from Los Angeles.