Man survives shark attack off Hawaii's Big Island, officials say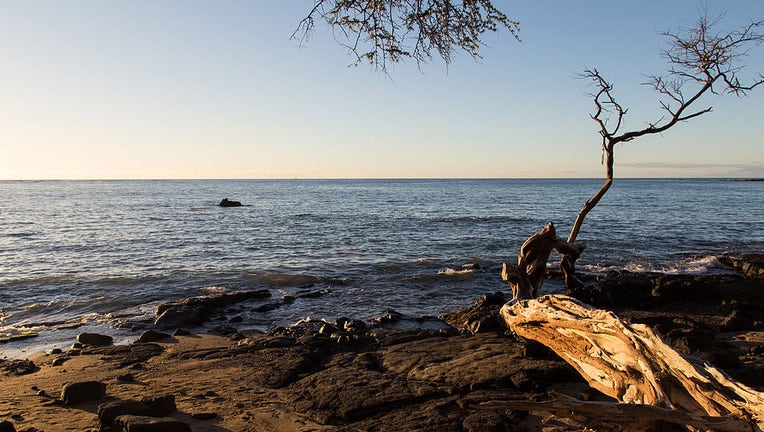 article
A man was swimming off Hawaii's Anaehoomalu Bay when he was attacked by a shark and managed to swim to safety, local authorities said. 
The swimmer, identified as a 62-year-old man from Utah, was swimming on Sunday approximately 200 yards offshore when a shark bit his left hand, according to a statement from the Hawaii Department of Land and Natural Resources.
While trying to fight off the shark, the man felt another bite behind his left knee, the statement added.
The swimmer proceeded to call out for help and was able to swim to a nearby vessel, whose crew took him to shore, officials said. 
The Hawaii County Fire Department met him on shore and took him to North Hawai'i Community Hospital. His condition was not shared. 
The beach remained closed for the rest of the day.
Officials said a Hawaii County Fire Department helicopter did a flyover on Monday, and no sharks were spotted. 
Anaehoomalu Bay, commonly referred to as "A-Bay," is located on the Big Island of Hawaii's west shore and is described as a great location for recreational activities like snorkeling and scuba diving, according to the island's official tourism website. 
In December, another shark attack made headlines when a man reportedly used a diving knife to save himself. In that incident, reported on Dec. 13, a 68-year old man was swimming about 400 yards offshore in Anaehoomalu Bay when a shark bit him on the lower left torso. 
It was reported as a 12-foot tiger shark, according to the Hawaii Department of Land and Natural Resources.
The shark released the man after he used a diving knife to defend himself, according to local police. 
Overall, the risk of a shark attack is low. According to the University of Florida's International Shark Attack File, there were a total of 57 unprovoked bites in 2022 worldwide, most of which occurred in the United States and Australia. 
Of these, five attacks were fatal, down from nine deaths in 2021 and 10 in 2020.
Since 2013, there has been an average of 74 unprovoked bites per year, according to the International Shark Attack File. 
RELATED: Hawaiian man nicknamed 'Dolphin Dave' accused of harassing humpback whale
This story was reported from Cincinnati.