Dump truck crashes into apartment building in Pacoima
PACOIMA, Calif. - Emergency crews responded to a report of a dump truck that crashed into an apartment building in the Pacoima area Tuesday afternoon.
The incident was reported shortly after 4 p.m. in the 12800 block of W. Branford Street. Two people inside the affected apartment unit were evacuated, according to LAPD. Another resident of the apartment was initially reported missing but was determined to be safe at work at the time of the crash, authorities said.
At least three people were hurt in the incident including the driver of the dump truck. All suffered minor injuries, the Los Angeles Fire Department said.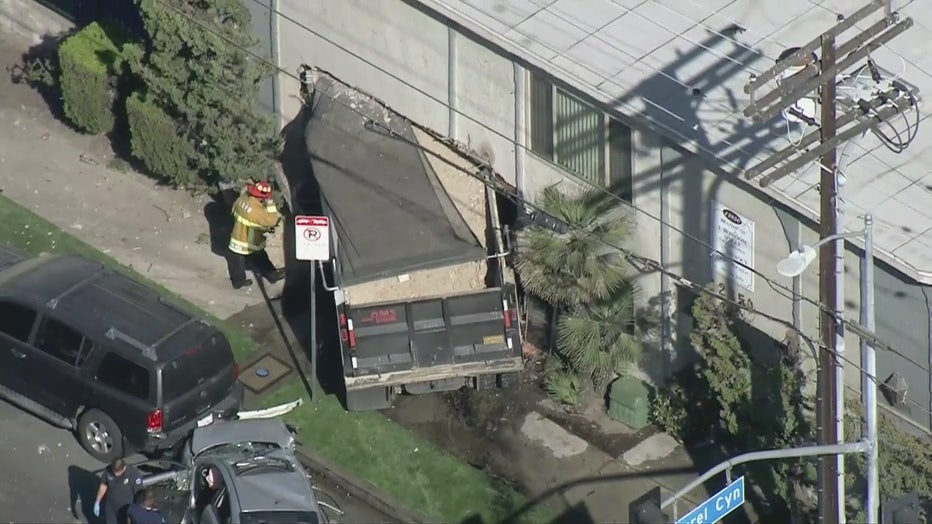 The truck driver declined medical care, according to LAFD, but two female victims were taken to a local hospital. One of the women was inside a silver compact sedan at the time of the crash, while a second woman was inside the badly damaged first-floor apartment, LAFD said.
The woman in the sedan is reportedly in fair condition but the woman inside the apartment is listed in serious condition.
Crews are working to determine if the building's structure was compromised as they search the building for other injured victims. The Los Angeles Department of Building and Safety are on scene. Approximately 50 LAFD firefighters were assigned to the incident.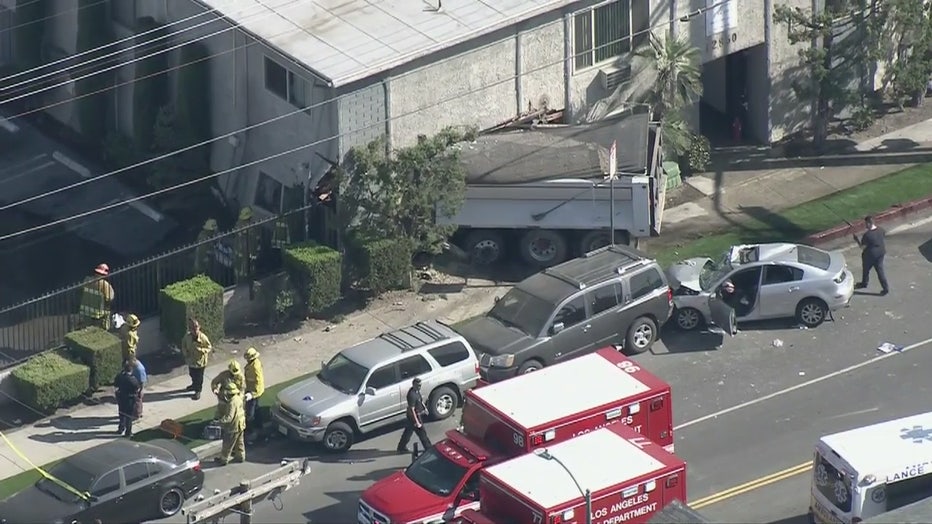 The Department of Building and Safety has red-tagged three units of the 28-unit apartment complex. All residents will be temporarily displaced while crews assess the damages.
Water and natural gas utilities have been secured, according to fire officials. A temporary shelter was set up for those displaced at Montague Charter Academy located at 13000 Montague Street in Arleta.
The cause of the crash is under investigation by the LAPD Valley Traffic Division.