Baby loungers sold on Amazon recalled over suffocation and fall hazards, officials say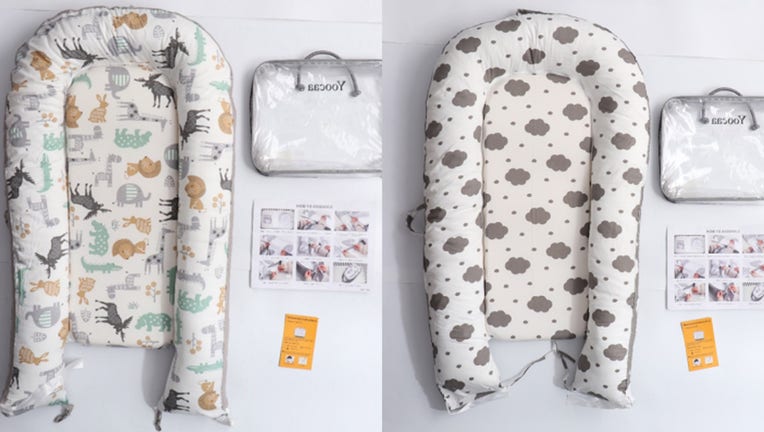 article
More than 4,000 baby loungers exclusively sold on Amazon were recalled due to the risk of suffocation for infants, as well as fall and entrapment hazards, U.S. consumer safety officials said.  
The Yoocaa baby loungers "fail to meet the safety requirements" for infant sleep products, the U.S. Consumer Product Safety Commission said in a notice posted on Thursday.
"The failures include not having a stand and not meeting the requirements for side height and fabric-sided openings," the CPSC said. "The product's sides are shorter than the minimum side height limit; the sleeping pad's thickness exceeds the maximum limit; and an infant could fall out of an enclosed opening at the foot of the lounger or become entrapped."
RELATED: Cosco Jump recalls Spin & Play activity toy after injuries reported
The recall involves about 4,140 loungers, which were sold on Amazon for between $30 and $55. It includes those sold on or after June 23, 2022, and advertised as "baby lounger" and "baby nest," the agency said.
The CPSC said the loungers were sold in different printed fabrics and colors, including animal, blue star, cloud, feather, flower, forest, leaf, pink star, polar bear and zoo. They're made of a cloth cover with a foam sleeping pad and padded bumper.
"SLEEPING SET" is printed on a tag sewn on the interior of the cover, the agency said.
Consumers who still have the packaging can also review the packaging for a label that states the date of manufacture, marked in the format "LOT: YYYYMMDD." The current recall applies to products manufactured with "LOT" markings on the packaging of 20220623 (representing June 23, 2022) or later dates. 
Caregivers were advised to immediately stop using the recalled baby loungers and contact Yoocaa Direct for instructions on how to receive a full refund. 
Yoocaa Direct and Amazon were contacting all known purchasers directly, the CPSC said.
RELATED: WanaBana fruit pouches found to have 'extremely high' levels of lead, FDA warns
This story was reported from Cincinnati.