Auto shops struggle to find trained mechanics amid national shortage: 'It's really getting scary'
If you need to take your car into the shop, the work could take longer than usual. 
That's because there's a nationwide shortage of auto mechanics, which is causing a backlog in repairs. 
Seasoned mechanics are retiring at an increased rate posing a challenge for shops attempting to fill vacant positions.
"It's been tough, especially since the pandemic," said Emily's Garage Manager Nolan Bailey.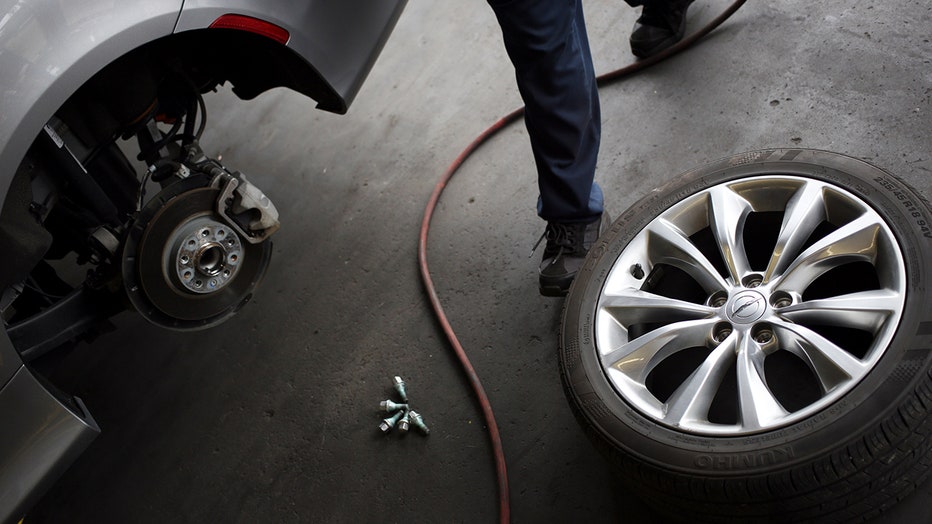 A mechanic prepares to perform a tire rotation on a customer vehicle at a Pep Boys - Manny Moe & Jack service center in Clarksville, Indiana, U.S., on Wednesday, June 3, 2015. Pep Boys earnings are scheduled to be released on June 8. Photographer
Emily's Garage just had an opening for a new auto technician. It took them a lot longer than it used to, to find the right fit. 
"Usually, you could put out an application," Bailey said. "And when people are work hungry, you'd get 20,30 applicants maybe in a week or two. In this case, we got maybe four or five applicants over the course of two months." 
According to the National Automobile Dealer Association, around 76,000 auto mechanic positions open up every year compared to the only 39,000 workers are coming out of technical colleges or training programs. 
WAGE GROWTH SLOWING SHARPLY IN US, INDEED SAYS
"We're starting to see a lot of the old timers time out of this repair industry. And it's really getting scary for our community," said Scott Benavidez with the Automotive Service Industry.  
Emily's Garage has had to increase wages to attract candidates.
RELATED: Know any airplane mechanics? Wave of retirements leave some US industries desperate
"We had to get pretty competitive with pricing," Bailey said. "We pay our guys very fairly." 
GAS PRICES COULD SPIKE AFTER SAUDI ARABIA OIL PRODUCTION CUT
Another issue plaguing the industry according to Benavidez is the amount of high school offering students the ability to explore the field.
"We've lost that communication, probably in the late 90s or early 2000s, with the high schools and their programs," Benavidez said. "And we're looking to get that back, but it's going to be a slow process." 
If the shortage keeps getting worse, getting cars fixed will cause consumers to suffer in the pockets and experience longer wait times for repairs.