Attending Kobe and Gianna Bryant's emotional, surreal memorial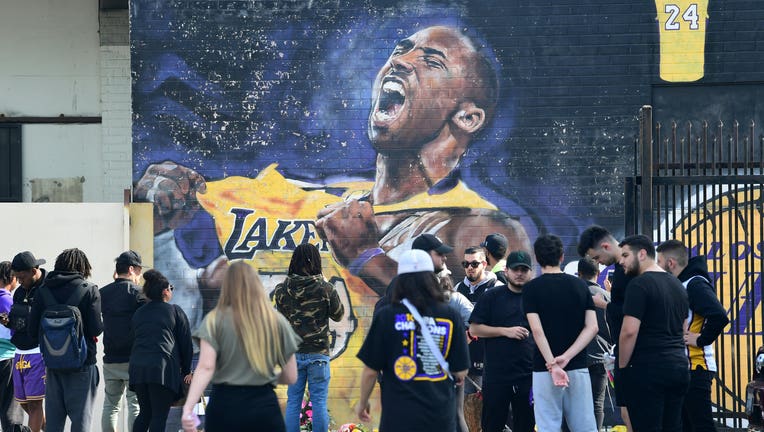 article
LOS ANGELES - Personal Reflections: Covering Kobe Bryant's memorial service from inside Staples Center was one of the great honors of my life. I've never cried more at a news event, but I've also never felt more inspired. The lessons about hard work & family are universal themes that can be applied to all of our lives.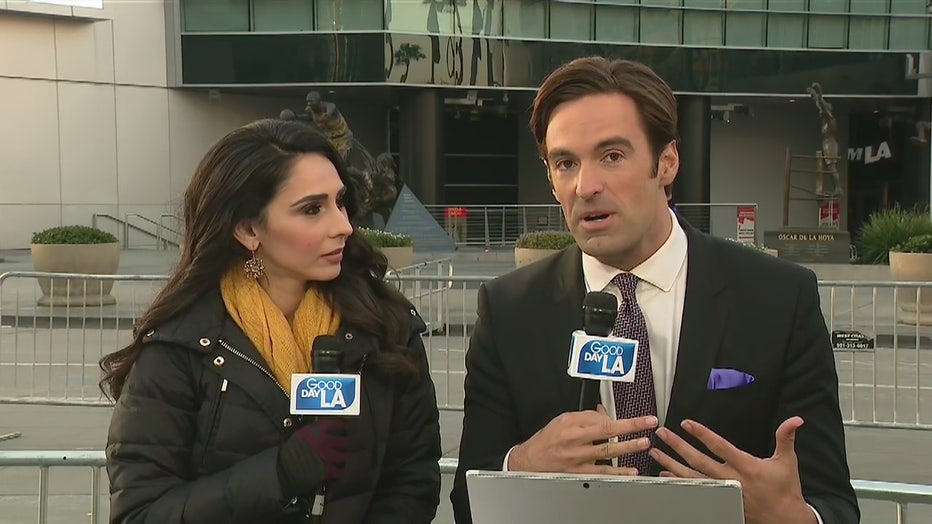 Araksya Karapetyan and Elex Michaelson co-hosting Good Day LA on the morning of the Celebration of Life memorial.
First, some insight about the day itself. It was surreal walking into the Staples Center. For hours, I co-hosted "Good Day LA" from LA Live and watched crowds forming behind us live on air. Attendees were wearing Kobe's jerseys and seemed poised for another NBA Finals game. We once again heard those familiar chants of "Kobe, Kobe, Kobe" and "MVP, MVP, MVP!" They were prepared for a celebration of life. 

Elex tweets his thoughts from the moments after the memorial:
Not everyone was in such a celebratory mood. On the floor of Staples were Kobe's family, friends, and the biggest stars of every sport. They were universally dressed in black, most were wearing sunglasses and almost all in tears. 
They were prepared for a funeral. 
The gravity of this moment really hit me while looking through the program they handed out to all attendees. It was full of pictures of Kobe Bryant — the father. As sad as the loss of Kobe Bryant is after all that he achieved, the loss of Gianna Bryant and all that potential to achieve is perhaps even more sad. 
I started to do something I've almost never done on assignment: cry. As news reporters, we're taught that it's unprofessional to show too much emotion. The story is not supposed to be about us. We see a lot of death and destruction in the course of our work every day - way too much. For many of us in the news business, the only way to cope with so much pain is to put up emotional walls and somewhat disconnect yourself from the story. If you don't, you wouldn't be able to function on a daily basis. 
Jack Johnson wrote about it in his song, "The News." His lyric? "Why don't the newscaster cry when they ready about people who die?"
I couldn't stop myself from crying on this one. I looked around the press box, and I wasn't alone. Like many Angelenos, this felt personal.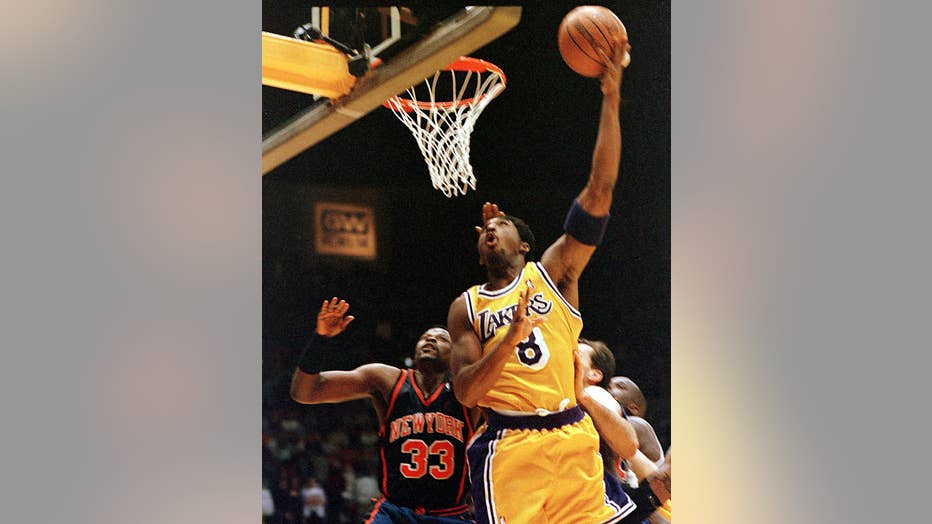 INGLEWOOD, UNITED STATES: New York Knicks Patrick Ewing (L) can't stop Los Angeles Lakers Kobe Bryant's drive to the basket in first quarter action 28 March 1999 at the Great Western Forum in Los Angeles. The Lakers won 99-91. AFP PHOTO/Gerard BURKHA
Kobe entered my life when I was a 9-year-old kid obsessed with the Lakers. I taped every game, poured through stats every morning in the LA Times, and imitated his moves in my own high school basketball games. I attended Kobe's final game as a 29-year-old man. That means through basically every stage of my life, Kobe was always there with all different eras of teammates.  
Seeing all of my heroes from those Lakers teams — together again — to mourn their teammate, left me bawling in the press box. Shaq, Phil Jackson, DFish, Rick Fox, Shaw, Pao, Lamar. These were my inspirations. For years, they were symbols of strength & dominance. On this day, they were symbols of pain. From my seat high above the arena, I could feel their collective hearts hurting.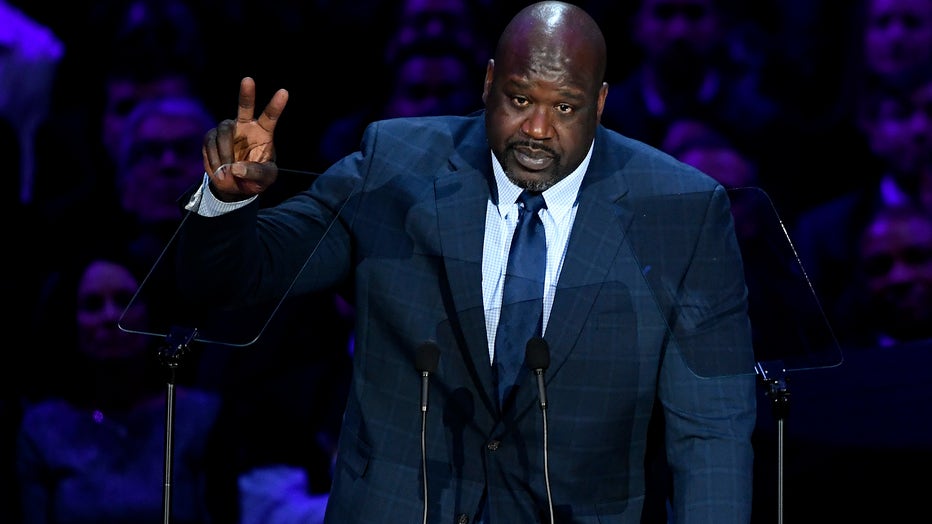 LOS ANGELES, CALIFORNIA - FEBRUARY 24: Shaquille O'Neal speaks during The Celebration of Life for Kobe & Gianna Bryant at Staples Center on February 24, 2020 in Los Angeles, California. (Photo by Kevork Djansezian/Getty Images)
Shaq spoke so eloquently for all of them with his characteristic humor, and Michael Jordan spoke extraordinarily well for the game of basketball itself.  M.J. is not known for his public speaking or being an especially "touchy-feely" guy.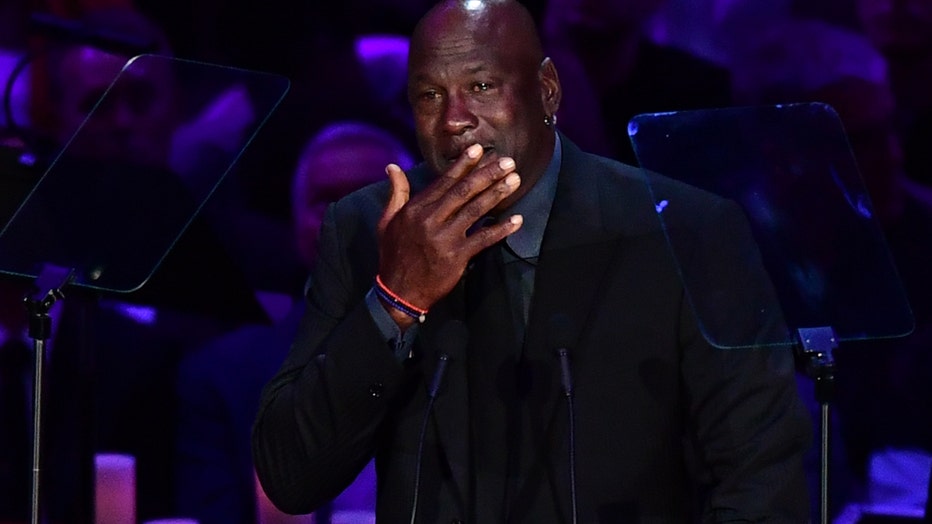 Retired US basketball player Michael Jordan cries as he speaks during the "Celebration of Life for Kobe and Gianna Bryant" service at Staples Center in Downtown Los Angeles on February 24, 2020. - Kobe Bryant, 41, and 13-year-old Gianna were among ni
Yet, the G.O.A.T. once again came through in the clutch. 
This time it wasn't a last-minute shot he provided us with, but his vulnerability. For multiple generations of men who view him as THE symbol of greatness & masculinity, he made it OK to cry.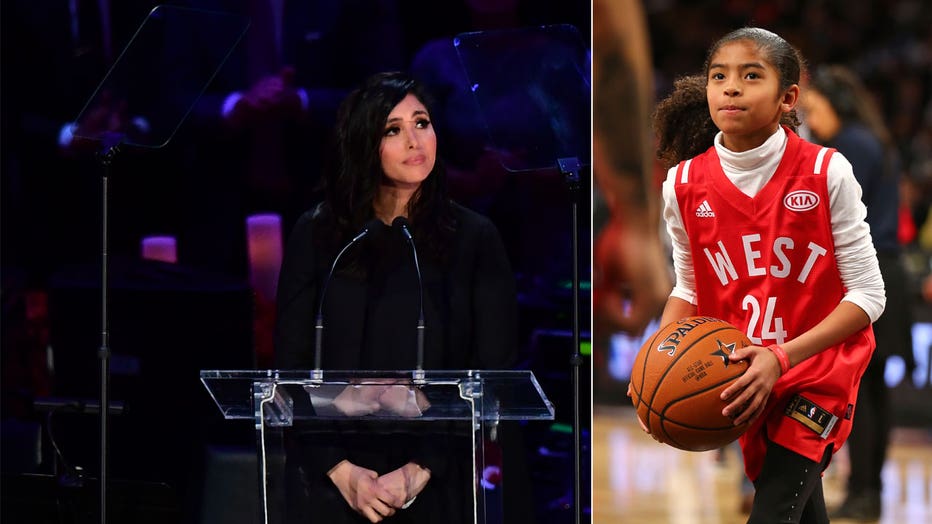 Vanessa Bryant is shown during a memorial for her daughter Gianna and husband Kobe at Staples Center alongside a file image of Gianna playing basketball. (Photo credit: Getty Images)
Still, NO ONE was stronger than Vanessa Bryant. She displayed unimaginable grace & poise in the face of incomprehensible grief. It said a lot about Kobe & Vanessa's parenting style, that Vanessa honored Gigi first. In fact, the entire beginning part of the service was a nod to female empowerment. To that point, here are some takeaways from the service itself:
WOMEN IN SPORTS:
Gigi Bryant was determined to change the way women were seen in sports. To help hammer home that point, the women took the center stage first. Even though the Mount Rushmore of NBA players sat in the arena, the WNBA finally got a long-overdue moment to shine. From Diana Taurasi to Sabrina Ionescu and then Geno Auriemma, the women's game couldn't have been better represented.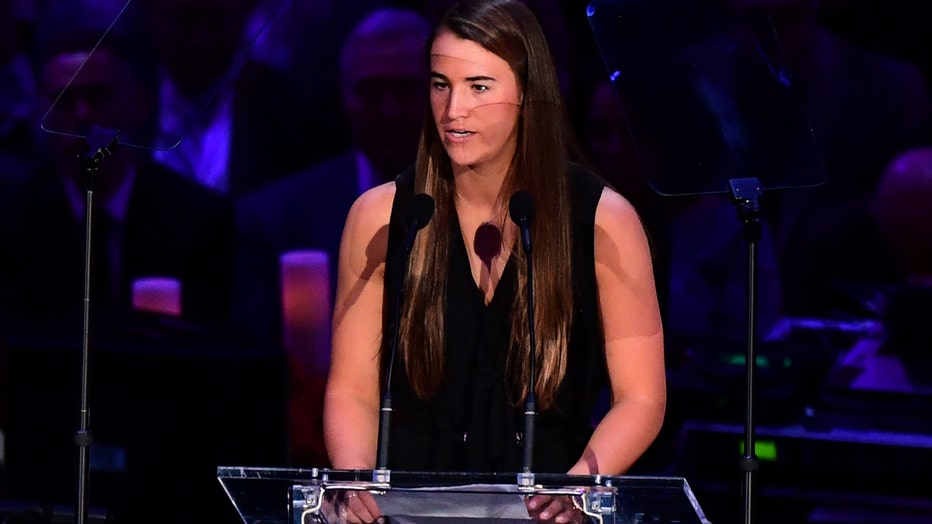 US college basketball player Sabrina Ionescu speaks during the "Celebration of Life for Kobe and Gianna Bryant" service at Staples Center in Downtown Los Angeles on February 24, 2020. - Kobe Bryant, 41, and 13-year-old Gianna were among nine people k (Getty Images)
EXCELLENCE:
Kobe Bryant was excellent at everything he did. EVERYTHING. From basketball to filmmaking, to playing the piano, to picking up his daughters from school, Kobe worked harder than everyone to achieve a level of greatness. In the process, he surrounded himself with people who were symbols of greatness. Learning from them was one of the great joys of his life. Everyone at his service was the greatest representative of their field in the world. As Geno Auriemma said, the greatest collection of talent ever in a room. Think about it for a second. What speaker would be better to represent each group?
Singer: Beyonce, Christina Aguilera
Piano: Alicia Keys
Women's Basketball: Diana Taurasi 
Future of Women's Basketball: Sabrina Ionescu 
Coaching: Geno Auriemma
Kobe: The Husband & Father: Vanessa Bryant
Kobe: The Friend: Rob Pelinka  
Kobe: The Teammate: Shaq
Men's Basketball Itself: Michael Jordan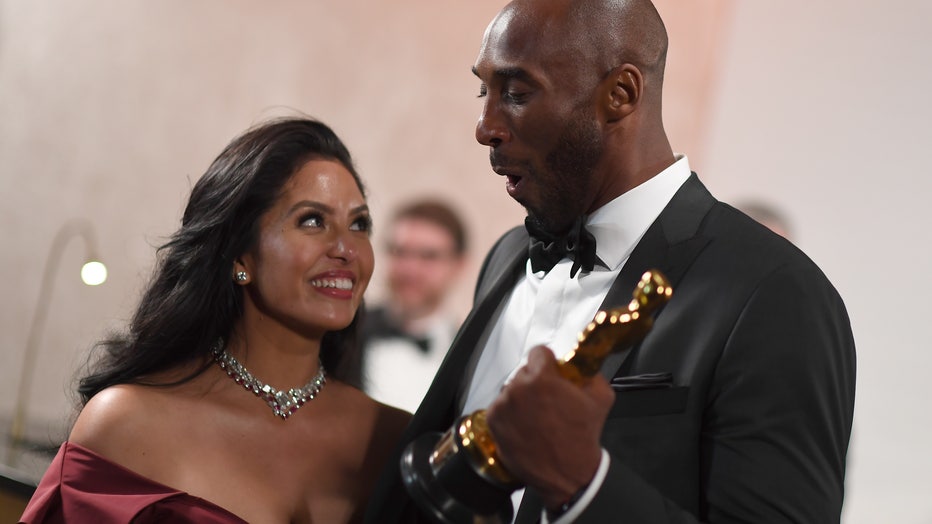 TOPSHOT - US actor and basketball player Kobe Bryant (R) holds an oscar beside his wife Vanessa Laine Bryant during the 90th Annual Academy Awards on March 4, 2018, in Hollywood, California. (Photo by ANGELA WEISS / AFP) (Photo by ANGELA WEISS/AFP vi
Later in his life, Kobe was obsessed with storytelling. He won an Oscar doing so.  This group was a dramatic example of picking the right storytellers to tell an unbelievable story. 
But the biggest takeaway of all had to do with family.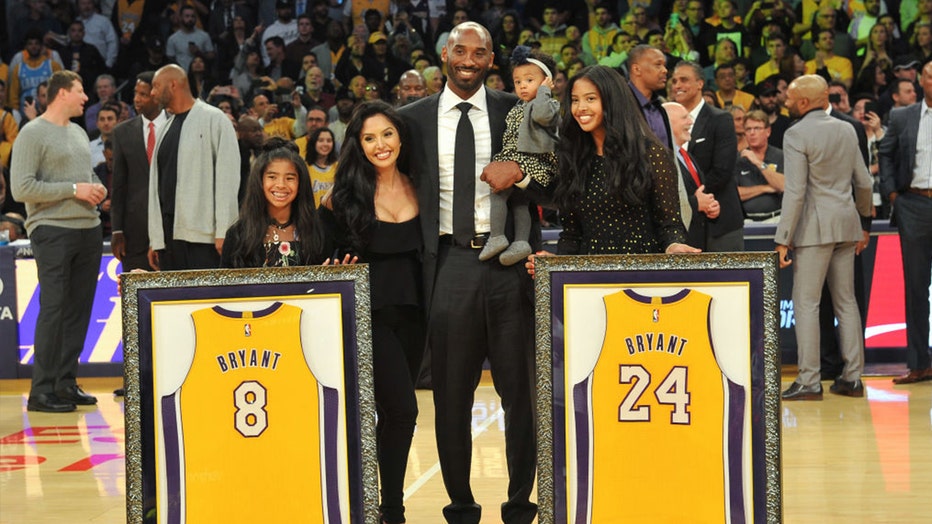 LOS ANGELES, CA - DECEMBER 18: Kobe Bryant, wife Vanessa Bryant and daughters Gianna Maria Onore Bryant, Natalia Diamante Bryant and Bianka Bella Bryant attend Kobe Bryant's jersey retirement ceremony during halftime of a basketball game between the (Getty Images)
FAMILY:
For most of his life, Kobe was obsessed with the singular goal of being the greatest basketball player in the world and winning championships in the process. He was so driven to do that, a young Kobe had a hard time relating to his veteran teammates who wanted to go out and party in the clubs. He also had well-documented struggles with his family. When you think back on the early days, you see Kobe smiling after winning, but not many other times. 
By the end of his career, Kobe had transformed into a father figure -- not only to his girls but also to the young talent of the league. Once he retired, it seemed like the collective weight of pressure had lifted off his shoulders and he was ALWAYS smiling. As Michael Jordan said, he left it all out on the court. He couldn't have worked harder, and he felt comfortable knowing that he had no regrets. In the last few years, Kobe spent time reflecting on life's biggest issues, writing inspiring stories and lifting up his kids. Kobe seemed genuinely happier than ever. His family gave him purpose and fulfillment in a way the Larry O'Brien trophy never could. 
As someone who is often obsessed with work, this was a wake-up call to me that there's more to life. Sitting in that arena surrounded by strangers, all I wanted to do was hug my family and close friends, and tell them I love them. Kobe's sudden loss is a reminder that any of us could go at any time -- even a rich and powerful icon. 
So we should all celebrate each day we have and leave nothing in the tank.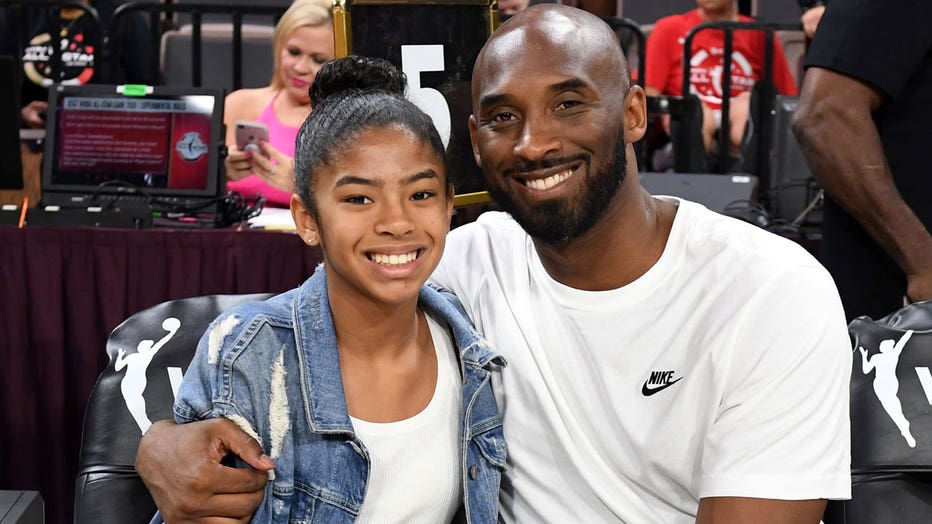 Kobe Bryant and his daughter Gianna are shown in a file photo. (Photo credit: Getty Images)
Going forward, I hope Kobe Bryant inspires all of us to pursue our passions, work as hard as physically possible to achieve our goals, lift others up in the process, and focus on loving those important to us. 
He certainly inspired me. 
Thank you, Kobe, for changing my life.