"Confused" 20-year-old dog surrendered by family finds forever home
A 20-year-old Weimaraner from Florida has found his new forever home after being surrendered by his family in late June. 
Dax's previous family was unable to continue caring for him and had to give up their beloved pet, according to the Walton County Animal Services shelter. 
And, like any pet who is surrendered, Dax was "confused and sad" after being brought to animal services, Big Dog Ranch Rescue (BDRR), told FOX TV Stations.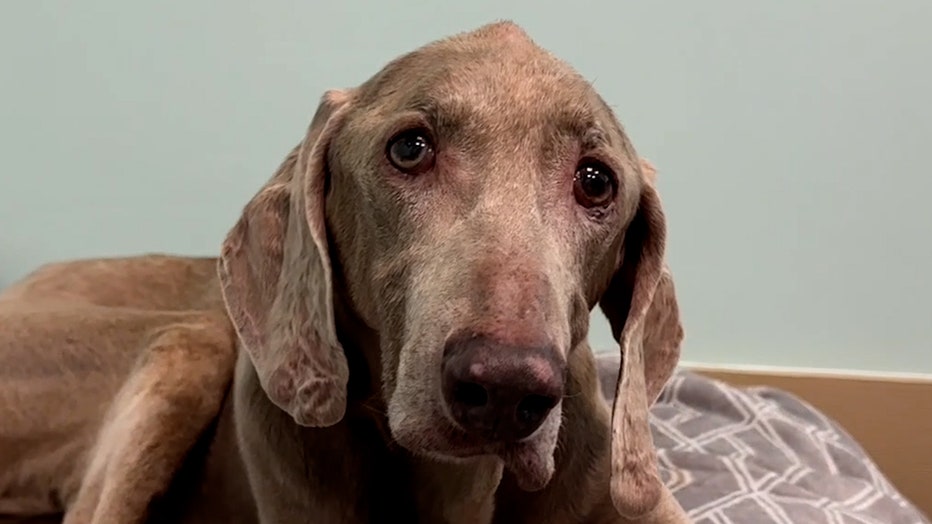 FILE - Dax, the 20-year-old Weimaraner after he was surrendered. (Big Dog Ranch Rescue)
BDRR, which is located in Loxahatchee, Florida, claims to be the largest no-kill, cage-free shelter in the nation. The shelter took Dax from animal services and began working with another non-profit dog rescue, Love4Paws, to find Dax a perfect home.
In a video shared by BDRR, Dax is seen looking crestfallen, but calm. His sad demeanor soon changes after he's given lots of pets and toys. 
Dax still had "a lot of life and love in him," according to BDRR. 
After getting a checkup with a veterinarian, Love4Paws took over fostering Dax. 
After about a week in foster care, a woman from Fort Myers, Florida, reached out wanting to formally adopt Dax. 
"His new owner is a nice retired individual who has the time to spend with a senior dog companion," BDRR said.
Dax now has some new siblings and a new owner to give him plenty of love and care for the rest of his life. 
Increase in surrendered pets
The number of not just elderly dogs, but dogs of all ages being surrendered has gone up 60%, according to BDRR's observations. 
"In a normal year, some 2 million dogs are euthanized due to lack of shelter space. But due to a bad economy and the inability of people to pay for care for their pets in addition to high food, gas and housing costs, as many as 13 million otherwise healthy dogs will be euthanized this year due to lack of shelter space. Dax's story is one of many we face at an alarming rate," BDRR told FOX. 
National shelter data from Shelter Animals Count — a nonprofit that monitors the country's "animal welfare landscape" — shows that from January 2022 to June 2022, the number of relinquished pets went from 31,606 to 38,066 at 1,050 animal shelters. 
RELATED: NYC's animal shelters filled to capacity
News reports from around the country state that pet owners are bringing animals to shelters at alarming rates in Akron, Ohio; Jacksonville and Orlando, Florida; Stockton, California; Houston, Texas; Johnson City, Tennessee; Farmington, New Mexico; and Missoula, Montana. 
The ASPCA estimates that the average annual cost of a dog is $1,391 and the average annual cost of a cat is $1,149. 
Total pet costs are up 7.1% year-to-date on the Consumer Price Index, according to Pet Age, a business-to-business pet news company. 
RELATED: Dogs increasingly impacted by pet abandonment in Minnesota
If pet owners find that they're unable to take care of their animal companions, PETA recommends they look into open-admission shelters that can "accept every animal in need, regardless of their adoptability for reasons of health, temperament or physical condition." 
FOX News contributed to this report. This story was reported from Los Angeles.