Sriracha sauce shortage causes prices to spike up to $70 a bottle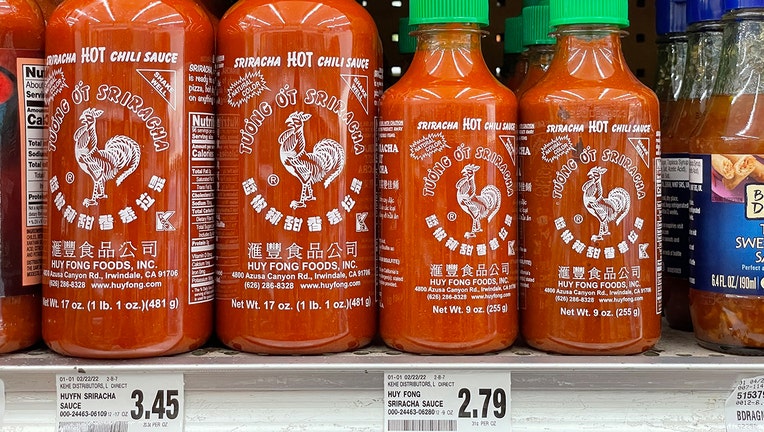 article
Fans of sriracha sauce might have to find a new spice alternative.
Continual chili supply disruptions are hampering production within one of the nation's leading sriracha sauce manufacturers for a second year in a row.  
Huy Fong Foods, Inc., a California-based hot sauce company that supplies bottles of sriracha sauce to restaurants, grocery stores and other food retailers throughout the country, has been struggling to keep up with demand while droughts in Mexico kill off essential pepper crops.
Yet resellers on e-commerce platforms such as eBay and Amazon are filling gaps with listings that mark single bottles for exorbitant prices.
How much is Huy Fong Sriracha Hot Chili Sauce usually?
Typically, 9-, 17- and 28-ounce bottles of Huy Fong Sriracha Hot Chili Sauce retail for less than $5, according to listings from big box retailers like Walmart and Target, but the condiment appears to be sold out.
Some of the recognizable, green-topped bottles, which are colloquially referred to as "Rooster Sauce," in reference to the brand's rooster logo, are being listed and sold for around $30 (plus shipping), which includes Huy Fong's 9-, 17- and 28-ounce bottles.
At the time of publication, some sponsored sellers on eBay who have agreed to pay the auction website a percentage of their sale price for higher placement in search results, have sold single 9-ounce bottles for $26.98, 17-ounce two packs for $54.49 and 28-ounce two packs for $71.99.
Under another eBay listing, the page says 12 of the 28-ounce bottles have been sold for upward of $69.99. One bottle costs $69.99; yet if shoppers purchase more than one bottle, the price slightly goes down, according to the listing.
Bulk size packages that contain 50 packets with under an ounce each are also being sold for $23.94.
On Amazon, resellers of Huy Fong's Sriracha Hot Chili Sauce have listed single and multipack bottles for tens of dollars. 
Analytics displayed under listings show some sellers of Huy Fong sriracha have sold over 50 or over 100 bottles in the last month, and some listings have been viewed by hundreds or thousands of shoppers browsing Amazon.
A 17-ounce two pack listing from an Iowa-based seller, which is currently priced at $124.99 and has yet to be reviewed by verified purchasers, has generated over 7,000 views in the last month, according to Amazon's website.
"Unfortunately, we can confirm that there is an unprecedented shortage of our products," a representative of Huy Fong Foods wrote in an emailed statement to FOX Business. "We are still endeavoring to resolve this issue that has be caused by several spiraling events, including unexpected crop failure from the spring chili harvest. We hope for a fruitful fall season and thank our customers for their patience and continued support during this difficult time."
The rep added that the brand only sells "at a wholesale level" and does not "set or control retail pricing."
FOX Business reached out to eBay and Amazon for comment.
HOW SRIRACHA HOT SAUCE GOT ITS START 
Caleb Chen, of Reno, Nevada, who's the founder of a cannabis review website The Highest Critic, told FOX Business he'd be willing to buy a $30 bottle of sriracha "in a pinch."
"It's a sauce with cult status and anytime there are supply chain issues, the market goes crazy," said Chen. "I am having a hard time finding the sauce now but that's why I'm glad I have a backup stock. I'll be able to ride out this wave of high sriracha prices, just like the last one."
RELATED: You can now buy TikTok's viral Pink Sauce at Walmart
Gena Cox, an organizational psychologist and executive coach from Florida, who's a self-described "sriracha addict," told FOX Business she stocked up on bottles of the iconic hot sauce when she first heard about Huy Fong's shortage last year.
"I bought five bottles and keep replenishing them by date. So, I'm sort of a 'sriracha hoarder,'" she said. "I would not pay $30, though."
Cox noted that she chooses to buy her food from established retailers, so purchasing sriracha online from large e-commerce websites isn't something she plans on doing.
THE MOST POPULAR HOT SAUCES IN EVERY STATE IN AMERICA
Tanya Gulliver-Garcia, a sriracha fan and director of learning and partnerships from New Orleans, Louisiana, told FOX Business she's had to cut her usage of the chili-garlic sauce by more than half.
"As soon as I heard about it last year, I hit several stores to stock up, and I'm down to one bottle now," she said. "The concession I made this year was to switch to a dry sriracha powder that I use while cooking. It's not exactly the same, but it was available when sriracha [sauce] wasn't. I'm not looking forward to a continuing shortage."
Gareth Boyd of Belfast, Northern Ireland (a U.K. constituent country), who's the co-founder and managing director of the international gift basket company Boyd Hampers, has also been affected by Huy Fong's ongoing sriracha shortage.
"As a food gift basket retailer with a restaurant and someone who regularly uses Huy Fong's sriracha sauce in my establishment and gift baskets, the ongoing shortage has indeed impacted us," he wrote to FOX Business. "We've noticed that the scarcity of the sauce has forced us to get creative with our sourcing, and yes, we have had to pay a premium for it on occasion."
"That said, spending $30 on a single 28-ounce bottle is not a long-term sustainable option for us," Boyd continued. "We're conscious of our cost structure and while the sauce is a popular condiment, we also need to think of our margins. We've tried substituting with other brands, but the unique taste of Huy Fong's sriracha sauce is hard to replicate. The feedback from our regular customers has reinforced this."
In an email sent to Fox News Digital last year, Huy Fong Foods confirmed it was experiencing a sriracha shortage due to an "unexpected crop failure from the spring chili harvest." 
The company told the Los Angeles Times in April that it was still facing an "unprecedented inventory shortage" with a lack of "raw materials," and the shortage appears to have continued into June.
A recent article from the California newspaper reported that droughts in Mexico are harming chili pepper crops grown by Huy Fong's Mexico-based suppliers, which has hindered sriracha production.
The spicy condiment is made from sun-ripened red jalapeño-hybrid chili peppers.
Huy Fong Foods is largely credited with introducing sriracha sauce to the American market. The company was founded in 1980 by Chinese-Vietnamese businessman David Tran. 
Competing sriracha brands include Flying Goose, Kikkoman, Roland Foods, Tabasco, Badia and several grocery store namesakes.