Bryan Kohberger: Suspect in Idaho murders agrees to extradition to face charges
STROUDSBURG, Pa. - A criminology graduate student accused in the November slayings of four University of Idaho students agreed Tuesday to be extradited from Pennsylvania, where he was arrested last week, to face charges in Idaho.
Bryan Kohberger, a 28-year-old doctoral student and teaching assistant at Washington State University, was arrested by state police at his parents' home in eastern Pennsylvania last Friday, and will be transported to Idaho within 10 days.
Students at the University of Idaho and nearby residents lived in fear for weeks as authorities seemed stumped by the mysterious and brutal stabbings. Idaho police appeared to make a breakthrough, however, after analyzing DNA evidence at the crime scene.
Wearing a red jumpsuit with his hands shackled in front of him, Kohberger showed little emotion during Tuesday's brief hearing in a Pennsylvania courtroom in which he acknowledged facing four counts of first-degree murder and a burglary charge.
RELATED: Bodycam video shows accused Idaho murderer getting pulled over in Indiana before arrest
Judge Margherita Worthington took her seat at the bench and Kohberger and his attorney Jason LaBar stood up. She asked Kohberger if he waived his right to challenge his arrest on four counts of first-degree murder.
"Yes, I do," he replied, soberly. The judge asked if he understood what he was agreeing to, and he answered again in the affirmative.
"Do you wish to waive the rights that I have just explained to you and return to the state of Idaho?" she asked.
"Yes," he answered before signing the extradition document. LaBar also stated on the record that Kohberger's Idaho attorney is Latah County Chief Public Defender Ann Taylor.
RELATED: Bryan Kohberger's lawyer sends defense investigators to crime scene: source
Kohlberger's parents and sisters sat in the front row of the courtroom gallery, behind the defense table. His mother and his sister Melissa broke down as he walked into the courtroom, sobbing quietly and holding one another. A sheriff's deputy brought them a box of tissues. Kohlberger glanced at his family briefly as he was led out of the courtroom.
Idaho officials are now expected to arrange for Kohberger's transport back to Idaho — a process that is generally kept secret because of security concerns.
Kohberger will be held at a jail in Monroe County, Pennsylvania, until his extradition.
The killings have left the rural town of Moscow, Idaho deeply shaken, and police have released few details about the investigation. For weeks the Moscow Police Department faced heavy criticism for telling frightened residents that there was no great risk to the community, even though a suspect had not been named.
Would-be sleuths attempted to fill the void with their own theories online –- some of them targeting friends and acquaintances of the slain students with hurtful and inaccurate allegations.
The chief public defender in Monroe County, Pennsylvania said his client is eager to be exonerated and plans to tell a judge in Pennsylvania that he will waive his extradition hearing so he can be quickly taken to Idaho.
Kohberger should be presumed innocent and "not tried in the court of public opinion," said the public defender, Jason LaBar.
RELATED: Idaho murder suspect Bryan Kohberger spotted for first time since arrest
Kohberger was spotted Tuesday for the first time since his arrest stepping out of a prisoner transport van outside the courthouse in advance of his highly anticipated extradition hearing.
Bryan Christopher Kohberger arrives at the Monroe County Courthouse in Stroudsburg, Pennsylvania, on Jan. 3. (Credit: FOX News Digital)
Kohberger, 28, wore a red jail-issue jumpsuit and had his hands shackled in front of him, as two law enforcement officials escorted him to the Monroe County Courthouse at about 10:45 a.m. ET.
He remained stone-faced as reporters pelted him with questions, "Why did you do it?"
After Tuesday's hearing, LaBar described Kohberger as "an ordinary guy," and said that after his extradition he would be represented by Ann Taylor, the chief public defender in Kootenai County, Idaho.
Capt. Anthony Dahlinger, of the Moscow Police Department in Idaho, told The Associated Press on Saturday that authorities believe Kohberger was responsible for all four slayings. The students were stabbed to death at a rental home near campus in Moscow, Idaho, sometime in the early morning hours of Nov. 13.
"We believe we've got our man," said Dahlinger, adding that investigators obtained samples of Kohberger's DNA directly from him after he was arrested.
RELATED: Bryan Kohberger's lawyer sends defense investigators to crime scene: source
Pennsylvania State Police Maj. Christopher Paris said Tuesday that Kohberger's warrant merited an after-dark arrest, which requires a higher standard of probable cause.
"We wanted to go in at a time when we thought it would be the safest for everybody. Safest for anybody else in the house, safest for Mr. Kohberger and safest for our people," he said.
A tactical response team reviewed floor plans of the home, and broke multiple doors and windows when they entered, Paris said.
Monroe County First District Attorney Michael Mancuso said local authorities are ready to assist Moscow police in any way, including by investigating Kohberger's activities in Pennsylvania, to shed some light on the Idaho killings.
"You want to look at any evidence of possible motive, you want to look at any evidence of a pattern, of a modus operandi or method, you want to get into the subject's character mental state as best you can – it would be an all encompassing effort that we stand ready for," Mancuso said.
RELATED: 'Look at the pattern': Former FBI special agent details how officials identified suspect in Idaho slayings
DNA evidence played a key role in identifying Kohberger as a suspect, and officials were able to match his DNA to genetic material recovered during the investigation, a law enforcement official said last week. The official spoke on condition of anonymity because they were not authorized to publicly discuss details of the ongoing investigation.
Federal and state investigators are combing through Kohberger's background, financial records and electronic communications as they work to build the case against him, the official who spoke anonymously said. The investigators are also interviewing people who knew Kohberger, including those at Washington State University, the official said.
Kohberger's relatives in Pennsylvania have expressed sympathy for the families of the victims but vowed to support him and promote "his presumption of innocence."
His parents, Michael and Maryann, and his two older sisters, Amanda and Melissa, said in a statement released Sunday by his attorney that they "care deeply for the four families who have lost their precious children. There are no words that can adequately express the sadness we feel, and we pray each day for them."
The family said that relatives will continue to let the legal process unfold, and that "as a family we will love and support our son and brother." They say they have fully cooperated with law enforcement to try to "seek the truth and promote his presumption of innocence rather than judge unknown facts and make erroneous assumptions."
RELATED: Idaho murders suspect pulled over twice on cross-country race home with dad, lawyer claims
Latah County prosecutors in Idaho have said they believe Kohberger broke into the students' home near the university campus intending to commit murder. Their bodies were found Nov. 13, several hours after investigators believe they died.
RELATED: Idaho murder suspect Kohberger wearing suicide-prevention vest, police used crime scene DNA: sources
The students — Kaylee Goncalves, 21, of Rathdrum, Idaho; Madison Mogen, 21, of Coeur d'Alene, Idaho; Xana Kernodle, 20, of Post Falls, Idaho; and Ethan Chapin, 20, of Conway, Washington — were members of the university's Greek system and close friends.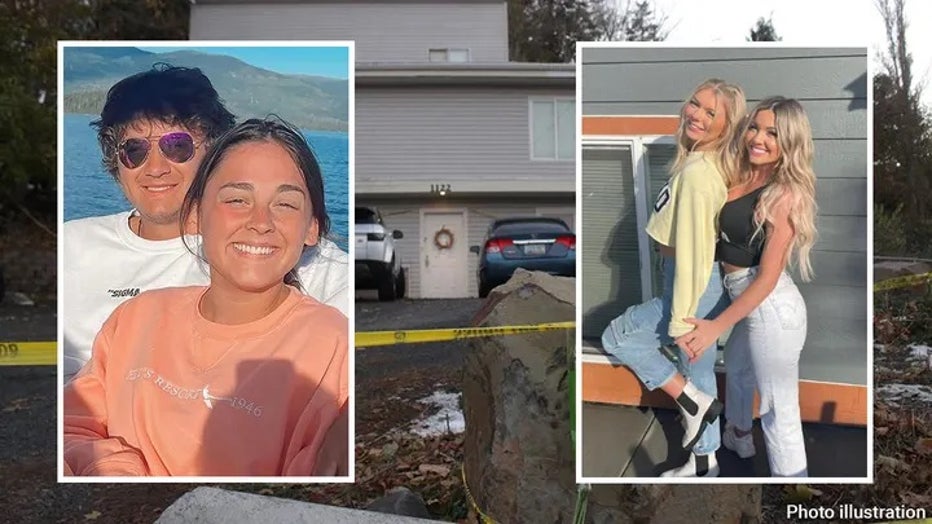 A split photo showing the crime scene and the victims, including University of Idaho students Ethan Chapin, 20, Xana Kernodle, 20, Madison Mogen, 21, and Kaylee Goncalves, 21. (Angela Palermo/Idaho Statesman/Tribune News Service via Getty Images/Inst
Mogen, Goncalves and Kernodle lived in the three-story rental home with two other roommates. Kernodle and Chapin were dating, and he had been visiting the house that night.
Latah County prosecutors have said the affidavit for four charges of first-degree murder will remain sealed until he is returned. He is also charged with felony burglary.
RELATED: Idaho murder suspect Bryan Kohberger's family issues statement after his arrest: 'Presumption of innocence'
Investigators have asked for information about Kohberger from anyone who knows him, and Dahlinger said investigators got 400 calls to a tip line within the first hour of that request. He said they were "trying to build this picture now of him: Who he is, his history, how we got to this event, why this event occurred."