Armenian Genocide commemorations to be held virtually due to COVID-19 pandemic
LOS ANGELES - The year 2020 marks the 105th anniversary of the Armenian Genocide. Every year thousands of people march throughout Los Angeles to honor the 1.5 million Armenians killed during the 1915 genocide.
But this year due to the coronavirus pandemic and the state's Stay at Home order things will be a little different... commemorations will be held virtually.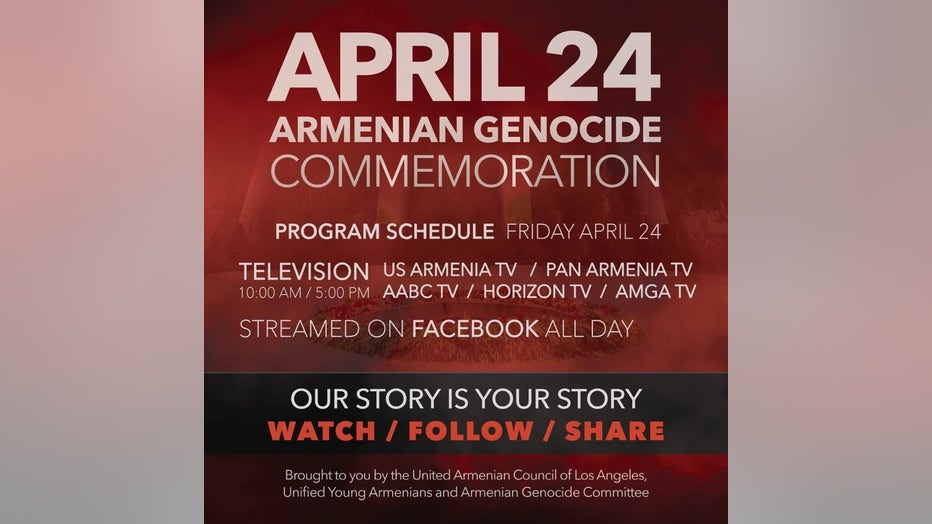 Every year the City of Glendale holds a special service at the Alex Theatre but this year the service will be broadcasted for people to watch in the comfort of their homes.
The city says the broadcast will be held Thursday, April 23rd at 7 p.m. The video will be shown on GTV6, channel 6 (Spectrum) and channel 99 (AT&T), as well as streamed on the city's Facebook, Instagram and YouTube. A documentary will also be shown on April 24th at 7 p.m. 
In addition to virtual commemorations, the Armenian Genocide Committee along with Unified Young Armenians and United Armenian Council for the Commemoration of the Armenian Genocide - Los Angeles, has launched a humanitarian fundraiser in support of Feeding America to honor Near East Relief and provide 1.5 million meals to Americans in need during the COVID-19 pandemic. 
You can participate and donate by clicking here. As of Friday morning over 4.2 million meals have been donated. 
Los Angeles is home to the largest Armenian population outside of the country of Armenia.