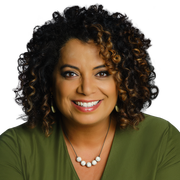 Michaela Pereira has been lucky enough to call Southern California home for the past 16 years. Perhaps best known to Los Angeles news viewers for her nearly a decade as part of the KTLA morning news team, it was actually Canada where she got her start.
Her very first television job was in 1993 in Victoria, B.C. Canada on CHEK-TV as host of an afternoon magazine show called CHEK Around. She also co-hosted a weekly entertainment show and did the weather on the noon newscast.
Michaela came to California in 1998 when she joined ZDTV, a national cable channel based out of San Francisco. She co-hosted a daily tech and entertainment show called Internet Tonight. ZDTV became TechTV a few years later and Michaela began anchoring multiple hours of their tech news.
After 9 years as part of the KTLA Morning News, she headed east to New York where she anchored CNN's morning show "New Day".
But California was calling again and after a three year stint in the east, Michaela returned to Los Angeles where she had her own daily national 2 hour show on CNN's sister station HLN.
Michaela loves her adopted home of Southern California and in her spare time enjoys exploring all that the area has to offer; road trips to get apple pie in Julien, riding her bike along the Strand, or visiting one of the local farmer's markets. Family is very important to her so she frequently travels north to British Columbia to see hers. She is an adoptee, as are her numerous sisters and because of this, Michaela is active in community organizations that serve vulnerable young people. She is a member of the board of directors for the Long Beach Boys & Girls Club and a member of the advisory board of Optimist Youth Home, providing services for at risk youth.
She's been honored with several awards including the Genii Award for Excellence in Broadcasting from the Alliance for Women in Media, the Hollywood Community Leadership Award from The Hollywood Police Activities League and the Celebrity Philanthropist Award from Association of Fundraising Professionals.  Michaela is a proud member of the National Association of Black Journalists.
The latest from Michaela Pereira