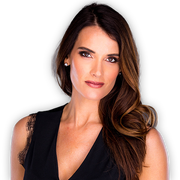 Christina Pascucci
Anchor, Reporter
Christina Pascucci is an anchor and a reporter for FOX 11.
She has traveled to more than 100 countries and all seven continents in pursuit of the world's untold stories, but her greatest passion lies here in the city of Los Angeles. As a native Angeleno and proud USC Trojan, it's her honor to tell the stories of the city that raised her.
From interviewing the world's spiritual and political leaders, to reporting from war zones, to exposing and prompting change of corrupt policies, Christina's passion for uncovering the truth transcends borders. The Emmy Award-winning journalist, licensed pilot, Spanish speaker, and humanitarian has been a respected broadcaster in Los Angeles for over a decade. In 2020, she was awarded L.A. Press Club's Journalist of the Year.
Christina dreams about reporting from space, and is passionate about ocean conservation and the environment. She has highlighted the issue from Antarctica, and dived with hundreds of sharks to expose the shark finning industry. She traveled to the slowly disappearing island nation of Palau to discuss climate issues with President Thomas Remengesau, who appointed Christina as Goodwill Ambassador to the country.
Christina's investigative reporting into the wasteful water-use policies of the Los Angeles Department of Water and Power resulted in the agency changing its policy to save millions of gallons of water at the height of California's drought. One of her most memorable reports was when the Dalai Lama invited Christina to his palace in India for an exclusive interview.
Her professional life has inspired her philanthropy. While on assignment, Christina met a young Afghan who had stepped on an IED near her war ravaged home. The Children of War Foundation made the subsequent surgeries and prosthetics possible, and Christina was immediately inspired to get involved. She now serves on the board and has traveled on missions to Ukraine, Haiti, and the Middle East.
Christina is an ambassador to 88 Bikes, an NGO that fights child sex trafficking around the globe. She trekked through the Cambodian jungle with them to highlight the work they are doing to rescue girls as young as four. She took what she learned abroad to her work with the Los Angeles Police Department, when she went undercover during an operation to target pimps.
She was honored by the California Senate for her work with underserved youth after serving as a big sister in the Big Brothers Big Sisters mentor program for more than a decade. Christina was also chosen from 10,000 mentors as California's Big Sister of the Year. Christina has worked extensively as an advocate for mental health awareness, foster youth, and unhoused families.
The latest from Christina Pascucci