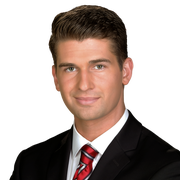 Bill Melugin is a Murrow Award winning reporter and investigative reporter for FOX 11 Los Angeles. He grew up in Orange County, CA and attended the Walter Cronkite School of Journalism and Mass Communication at Arizona State University where he received a B.A. in broadcast journalism and a minor in Spanish Linguistics. Prior to joining FOX 11, Melugin worked as an anchor and investigative reporter at WJZY-TV in Charlotte, North Carolina for two and a half years, and began his career as a reporter and fill-in anchor at KFOX-TV in El Paso Texas. Melugin received the Society of Professional Journalist's 1st place national Mark of Excellence award for investigative reporting, and has won a Texas State Teacher's Association School Bell award for his coverage of corruption in El Paso School districts, as well as an EMMA award for specialty reporting.
The latest from Bill Melugin
New victims of a Chilean "tourist" burglary ring have come forward after a FOX 11 investigation revealed that Chilean nationals are exploiting the ESTA visa waiver system to come to Southern California and commit hundreds of burglaries.
The Los Angeles County Fire Department is augmenting staffing and pre deploying resources in high-risk burn areas ahead of a major Santa Ana wind event expected to begin early Thursday morning.
Torrance resident Seth Shapiro has filed a federal lawsuit against AT&T, alleging that the wireless provider's employees helped hackers pull off a 'SIM Swap' hack that robbed him of $1.8 million, and he says chat logs from the arrested hackers prove it.
A Porter Ranch family reached out to FOX 11 to say thank you after they saw video of one of our field crews helping extinguish flames at their home during live coverage of the Saddleridge Fire.
The family of a 10-year-old Santa Ana elementary school student is speaking out after she was found dead by suicide over the weekend. Police are now investigating rumors that she may have been bullied.
Homeowners who live near homeless encampments in fire prone areas want police to enforce a new ordinance that allows law enforcement to clear homeless out of high risk fire areas during red flag warnings.
A Sherman Oaks homeowner is criticizing LAPD after he says his home surveillance video shows police letting the burglar who broke into his home escape right in front of a responding officer.