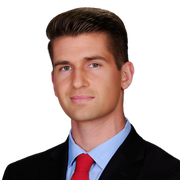 Bill Melugin is a multiple EMMY, Murrow, and Golden Mike award winning investigative reporter for FOX 11 Los Angeles. He is the 2018 and 2019 recipient of the RTNA's Golden Mike Award for "Best Investigative Journalism" in southern California, and the winner of the 2019 Television Academy EMMY for investigative reporting. Melugin is also the recipient of a 2018 regional Edward R. Murrow award for hard news reporting.

Bill grew up in Orange County, CA and attended the Walter Cronkite School of Journalism and Mass Communication at Arizona State University where he received a B.A. in broadcast journalism and a minor in Spanish Linguistics. Prior to joining FOX 11, Melugin worked as an anchor and investigative reporter at WJZY-TV in  Charlotte, North Carolina for two and a half years, where he won a 2017 regional Edward R. Murrow award for breaking news reporting, and won the SPJ's national Sigma Delta Chi award for best breaking news reporting for his live coverage of the Charlotte riots. Melugin began his career as a reporter and fill-in anchor at KFOX-TV in El Paso Texas for two years. He grew up watching FOX 11, and his family still lives in Orange County. 
The latest from Bill Melugin
Highly disturbing video appears to show a homeless man raping a passed out homeless woman on a sidewalk in front of a Venice building on Friday evening.
A months-long FOX 11 investigation reveals some businesses are using elaborate schemes to silence online critics through the use of fraudulent defamation lawsuits, filed against people who may not even exist, and even the use of international hackers, all designed to silence consumers and their criticism. 
Pasadena has one of the most unique New Year's Eve traditions. Only on Colorado Blvd will you find campers stacking up marshmallows and making corn tortillas with shaving cream to throw at cars as they pass by. It's part of the pre-Rose Parade celebration for those who camp out overnight to get a good seat at the Rose Parade. 
Security video obtained exclusively by FOX 11 shows two criminals apparently using USPS master keys to gain access to a Westwood luxury apartment building's mailboxes, and steal almost all of the tenants' mail. 
In an exclusive investigation, FOX 11 went undercover to Skid Row, embedding with a Los Angeles County mental health team tasked with helping the most vulnerable on the streets in a system the team and a County Supervisor say is 'broken.'
Residents in Woodland Hills were jolted out of their homes early Friday morning after a possible explosive device detonated just yards away from properties. 
Six puppies that were seized by spcaLA during the June arrest of a sick puppy peddler FOX 11 had been investigating for two years are now grown up and will be ready for adoption on Saturday.
FOX 11 tracked down and confronted two new sick puppy peddlers accused of illegally selling sick and dying dogs to unsuspecting customers responding to their Craigslist and Recycler ads.
The Los Angeles Police Department is cracking down on electric scooter riding flash mobs who take over city streets and post their activities to social media.