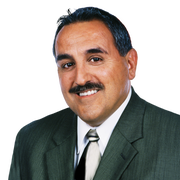 Award-winning journalist Rick Lozano has been a fixture on Los Angeles television since 1986. He's a sports anchor for FOX 11 News and reports from the Inland Empire area in the mornings. Lozano is a native of San Antonio, Texas where he broke into the broadcast industry at the age of nineteen while only a sophomore in college. He started his career in 1972 as a radio newscaster for KONO/KITY, before making the jump into television. His TV career began at ABC affiliate KSAT-TV, where Rick was a general assignment reporter and weekend sportscaster. In 1986, Rick moved to the West Coast to work at KABC-TV as a weekend sportscaster. He later became that station's weekday four o'clock sportscaster, where he received Emmy nominations for his work as both an anchor and reporter while covering local, national and international events. In 1999, Lozano made the switch from sports to news, joining the FOX 11 team as morning reporter for both FOX 11 Morning News and Good Day LA.
The latest from Rick Lozano
 The Los Angeles Angels hosted a special event this weekend to bring awareness to the issue of human trafficking. 
A 7-month-old German Shepard is making strides after she was dragged from a truck for about one mile in late July, said officials.