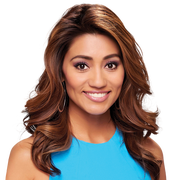 Rita Garcia is a weekday morning news anchor on Good Day LA from 4:00 to 7:00 a.m. She joined the KTTV team in December of 2017. Prior to joining FOX 11, Garcia worked at FOX 26 KRIV in Houston, Texas as a weekday morning anchor. Before that, she reported for KCBS/KCAL in Los Angeles. Garcia began her television career in the Rio Grande Valley in South Texas, where she reported on a number of international border stories. 
Rita was born in Austin, TX. She picked up a microphone at a very young age when her parents gave her a tape recorder and mic to read her stories aloud. She would constantly practice and record herself (she hasn't stopped talking since). Her interest in journalism was sparked when she was introduced to a program in high school that focused on radio & television as a freshman. From reading the daily school announcements, she developed a passion for reporting the news. She interned at National Public Radio (NPR) and received a Bachelor of Arts in Electronic Media from Texas State University's School of Mass Communications in San Marcos, Texas.
Some of her most memorable coverage includes the death of Kobe Bryant, the Woolsey Fire, the Oscars & Emmy red carpet, Super Bowl 51, Hurricane Harvey, the 2017 and 2018 World Series and the death of Michael Jackson. Garcia was also the first morning news anchor in the Los Angeles market to broadcast an entire morning newscast live from home during the 2020 Coronavirus Pandemic. Rita was recently featured in the Los Angeles Times and has been invited to guest host on Rachael Ray.
The latest from Rita Garcia