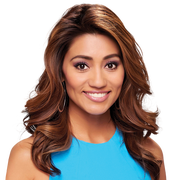 Rita Garcia anchors Good Day LA from 4:00 a.m. to 7:00 a.m. along with Dan Cohen.
Prior to joining FOX 11, Garcia worked at our sister station Fox 26 in Houston, Texas. Garcia moved from Houston to Los Angeles where she reported for KCBS/KCAL. Some of her most memorable coverage included the death of Michael Jackson and Farrah Fawcett, the Royal couple's visit to the United States, and the 2009 Lakers Championship. During her tenure in California, she was honored with the prestigious "Tracy Miller Merit Award" for her dedication and passion to journalism.
The Texas native began her career in the Rio Grande Valley in South Texas, where she investigated some of the most prevalent issues we face today; including border security, immigration and Mexico's drug war.
The latest from Rita Garcia