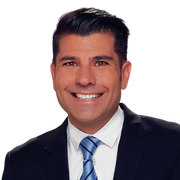 Rick Dickert
Meteorologist
Meteorologist Rick Dickert provides the weather, traffic and breaking news from SkyFOX during the FOX 11 Morning News and Good Day LA. In 2000 he earned a Golden Mike Award for best traffic reporter in Los Angeles. He also accumulated a number of Emmys for his segment on Good Day LA. Dickert began working at KTTV as an intern in 1990. He was then hired as a production assistant and went on to help launch the Fox 11 Morning News and Good Day LA in 1993. He began his on-air career in January of 1998 as the weekend meteorologist at KEYT, the ABC affiliate in Santa Barbara. Dickert joined the FOX 11 Morning News and Good Day LA teams in April 2005 after serving three years as the weekend weather anchor at FOX. Dickert studied meteorology at San Jose State University and UCLA. He was elected a full member of the American Meteorological Society (AMS) in 1994 and is recognized as a meteorologist by the organization.
The latest from Rick Dickert
The heaviest rain is expected Monday night into Tuesday.
One of the most difficult parts of our Southern California forecast lately has been the smoke. Not only were we experiencing smoke from our own local fires, namely the Bobcat Fire in the San Gabriel Mountains and the El Dorado Fire in San Bernardino County...but last week, we were also experiencing smoke from fires in Northern California and the Pacific Northwest! It's been a long, smoky 7 days that's for sure, and unfortunately, this smoke continues this week, especially in LA County and places closest to the fires.