Wednesday's Child: Will you make a loving, forever home for Juan
(FOX 11) - Juan (2004) is an athletic teen who enjoys sports, particularly soccer. He's open to new experiences and always a team player. With that in mind, we brought Juan to MB2 Raceway in Sylmar, CA. Today he joined Team Wednesday's Child for some high speed racing simulations through go-carting at this indoor racing facility!
While Juan has driven a "go-cart" before, he took to heart the safety lessons from experts during the briefing and driver safety checks. As lap after lap went by, Juan's acumen in driving kept improving despite wavering off course at times. Having fundamental instructions and a solid foundation to build on are the formula for success.
In a parallel process, in the race called "life", Juan will need the solid coaching, a steady course to follow and the anchor found in a family to succeed.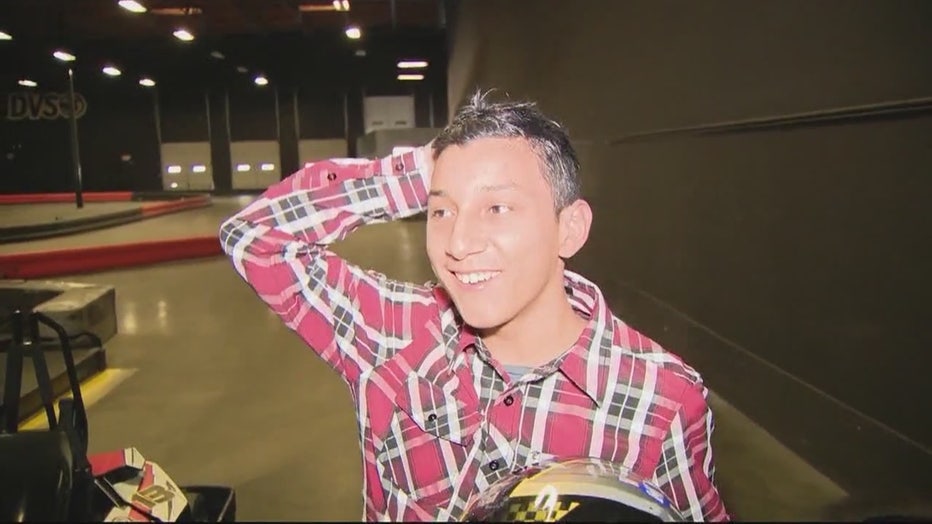 Juan's ultimate goal is to go to college and pursue a career as a lawyer. He wants to help defend and advocate for people who are defenseless. He has already mapped out his plan: starting with a part time job and joining the Army to help pay for his higher education. That sounds like a solid plan! Currently, Juan is more enthusiastic about finding and joining a forever family. We found Juan to be very engaging and sociable.
He said that he likes spending time with friends. Juan takes pride in being focused and taking care of himself. As someone who's also task oriented, he enjoys helping around the house with critical chores such as doing his own laundry, and cleaning and cooking for the household.
Juan is an older teen in foster care, so a "race to the finish" line is more so for him. We're looking for a family with a calling to help this kiddo achieve his call of duty. Tune in to Wednesday's Child and then call to learn more about adoption at 866-921-ADOPT (2367).