Wednesday's Child: Sweet, fun-loving Alexis in search of a forever home
LOS ANGELES (FOX 11) - Llamas, horses and pigs! Oh my!!! Meet Alexis (2005), a young girl in foster care with a kindred spirit and a true heart full of compassion. Alexis wants to pursue a career working with abused and neglected animals.
The Gentle Barn, an organization and place that nurtures and protects neglected animals and seeks to reconnect people with nature, was just the ticket for Alexis. Co-founder, Ellie Laks provided Alexis with the philosophy, modeling and mentoring for the day.
Alexis has a charming personality. In addition to animals, she loves arts and crafts, and spends a great deal of time drawing and reflecting. Alexis tells us she's always drawing or at least doodling something. Being the kind of kid who rescues animals off the street and making sure they're OK, a day at The Gentle Barn was her dream day. She hopes to be able to live on a farm or ranch to work with animals in some capacity.
Alexis is even considering a career as a veterinarian for large animals. Alexis has a great eye for refurbishing old items and is quite the do-it yourselfer. She finds art and beauty in old things and restores them. Alexis is very open and easy to talk to and fun to be around. For her adoptive family, she is open to any family constellation. One stipulation that she has for her forever family is that they also love animals or at least are open to her keeping her pets. Her current pet family consists of a bird and two mice.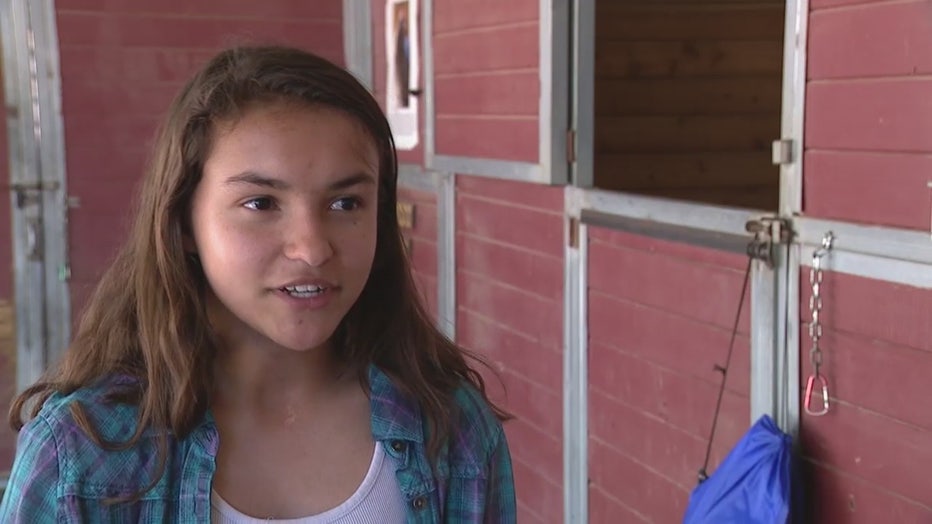 Relationships are important to Alexis. While she's excited to develop and nurture new ones, esepcially with an adoptive family who comes forward for her, she maintains relationships with birth family members and wants those connections to remain intact.
Tune in to Wednesday's Child to learn more about this gentle soul and her visit to The Gentle Barn, and then call to learn more about adoption at 1-866-921-ADOPT (2367).