LASD deputy murdered: Video appears to show moments before shooting
PALMDALE, Calif. - A Los Angeles County Sheriff's deputy was shot and killed while sitting in his patrol car outside the Palmdale station Saturday, according to Sheriff Robert Luna.
Deputy Ryan Clinkunbroomer was killed Saturday after a car approached his patrol car near the Palmdale Station and shot into the vehicle, hitting him.
The suspect, 29-year-old Kevin Cataneo Salazar, was arrested Monday morning after a standoff with authorities at the home he shared with his family in Palmdale, Los Angeles County Sheriff Robert Luna said during a press conference Monday.  
"We believe we have the murderer of our deputy in custody," Luna said, adding that the department is "extremely confident" they arrested the sole suspect responsible. Luna urged the public to continue to come forward with any information as the investigation remains active and ongoing.
Surveillance video from the scene appeared to show a black car pull up alongside the patrol car. No shots are seen, but the car is then seen speeding away while the deputy's cruiser rolls slightly forward before coming to a stop.
RELATED: LASD deputy shot and killed in ambush attack in Palmdale; manhunt continues for suspect
According to Luna, a good Samaritan found Clinkunbroomer in his patrol car unconscious near the intersection of Sierra Highway and Avenue Q. That's when the good Samaritan alerted other deputies and Clinkunbroomer was taken to the hospital.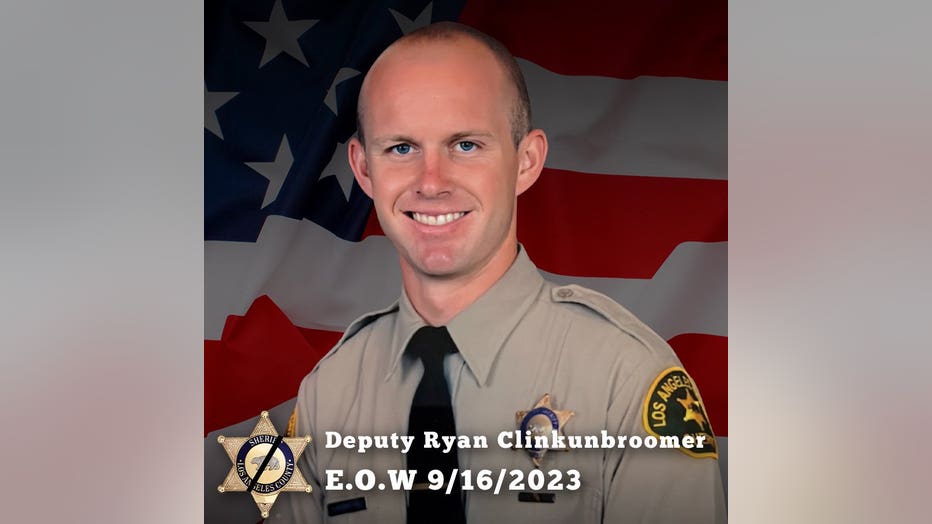 Ryan Clinkunbroomer / LASD
Clinkunbroomer was initially transported to the hospital in his cruiser, but an ambulance caught up with them on the way. He was then put in an ambulance and another deputy brought the cruiser to Antelope Valley Medical Center in Lancaster, where he later died.
PREVIOUS COVERAGE: LASD deputy shot on duty in Palmdale, hospitalized in critical condition
According to Luna, Clinkunbroomer transferred to the Palmdale station in 2018, and served as a field training officer for more than a year.
"Our deputy left his family tonight to serve our community," Luna said "…Laid it all on the line to serve us. He didn't deserve this."
A "vehicle of interest" in the murder of LASD Deputy Ryan Clinkenbroomer in Palmdale.
Luna went on to call Clinkunbroomer's murder "unfair" adding that Clinkunbroomer was third-generation law enforcement.
"His father and grandfather served with us. Service was running through his veins. He embodied the values of bravery/selflessness & committed to justice. Our deputy was a devoted family member and a cherished community member. He was cowardly shot while working tirelessly to serve our community this evening. Our hearts go out to his family. We cannot fully understand their pain, but we will stand with them in solidarity and support them during this difficult time. They deserve unwavering compassion, and we will do everything in our power to provide them with assistance and care," Luna said in a statement.
In a statement read by Luna, Clinkunbroomer's family called him a "dedicated, hardworking deputy sheriff who enjoyed working at the Palmdale station." 
"He was proud to work alongside his partners that he considered brothers and sisters, and he sacrificed daily. Ryan made the ultimate sacrifice in doing so. Ryan was recently engaged ot the love of his life. As our firstborn son, Ryan will be greatly missed by his family, friends, and the sheriff's department as a whole. Please keep Ryan's family, friends, and colleagues in your prayers and respect everyone's privacy during our time of mourning." 
The ALADS has set up a donation page for those wishing to help deputy Clinkunbroomer's family in the aftermath of his death. That fundraiser can be found by clicking here. 
The last Los Angeles County sheriff's deputy shot and killed in the line of duty was Sgt. Steve Owen, 53, a 29-year department veteran who worked out of the Lancaster station and was shot while investigating a reported break-in on Oct. 5, 2016.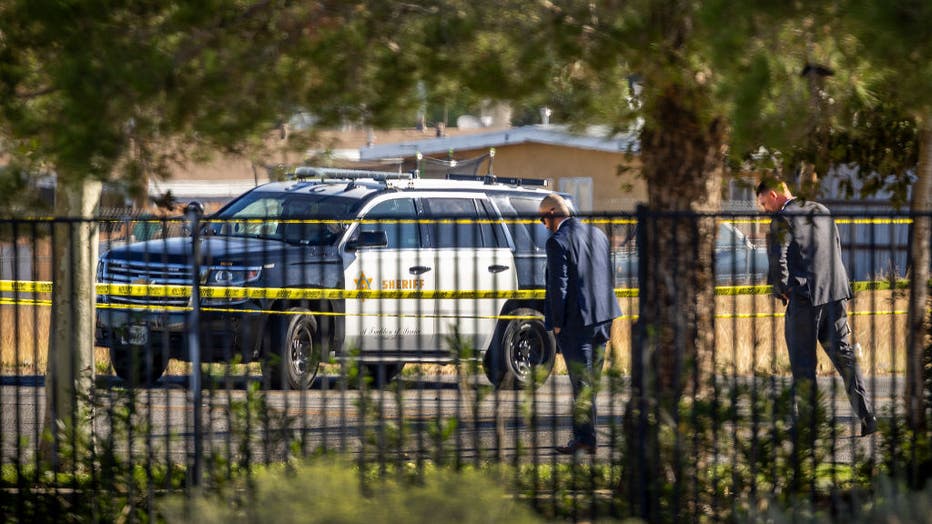 Investigators work the scene Sunday morning where an on-duty Los Angeles County sheriff's deputy was shot and killed Saturday, Sept. 16, 2023. (Allen J. Schaben / Los Angeles Times via Getty Images)
Deputy Alejandro Martinez died on July 28, several months after he was struck by a wrong-way vehicle while training with dozens of colleagues near the sheriff's STARS Explorer Academy law enforcement training center in Whittier in November 2022. The driver, 22-year-old Nicholas Joseph Gutierrez of Diamond Bar, told reporters that he fell asleep at the wheel.
Deputy Steve Belanger died on Feb. 6, 2018, succumbing to a gunshot wound sustained on Dec. 10, 1994, when he was ambushed while conducting a traffic stop in the 18400 block of La Guardia Street in Rowland Heights. Doctors were unable to remove the bullet from Belanger's brain, and he remained under constant medical care and confined to a wheelchair until passing away in 2018.
Anyone with information about Saturday's shooting was asked to contact LASD homicide detectives by calling 323-890-5500.
City News Service contributed to this report.