FOX 11 wants you to show us your holiday lights!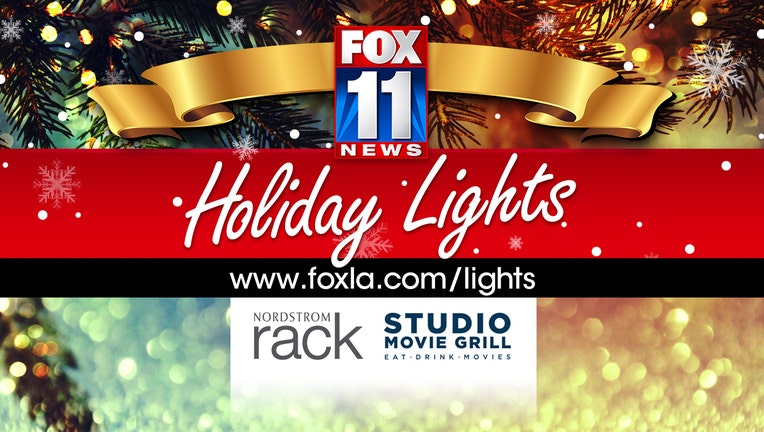 LOS ANGELES - FOX 11 is getting into the holiday spirit in 2019 with the most amazing Los Angeles holiday light displays. If you deck the halls, if your neighborhood looks like a winter wonderland, if your house would make even Clark Griswald jealous, we want to hear from you!

Also, FOX 11 is partnering with Studio Movie Grill and Toys For Tots for the first time this holiday season. Studio Movie Grill will give a free movie ticket for each unwrapped toy donated at their locations:
Check out the holiday lights displays we've featured so far on FOX 11:
December 6: Buena Vista Avenue in Yorba Linda
December 7: Richmond Drive in Claremont
December 8: West 78th Street in Westchester
December 9: Knotts Berry Farm in Buena Park
December 10: Holiday Lights in South Gate
December 11: Holiday Lights in West Covina
December 12: Holiday Lights in Glendora
December 13: Holiday Lights in Chino Hills
December 16: Holiday Lights in Upland
December 17: Holiday Lights in Granada Hills
December 18: Holiday Lights in Newport Beach
December 19: Holiday Lights in Downey
December 20: Holiday Lights in Burbank 
December 22: Holiday Lights in Venice Canals
December 23: Holiday Lights in Cerritos
December 24: Holiday Lights in the City of Orange
December 25: Holiday Lights in La Mirada: The Griswold house
December 26: Holiday Lights in Menifee
December 27: Holiday Lights in Long Beach
December 30: Holiday Lights in West Covina
December 31: Holiday Lights in Moreno Valley
Thank you to our sponsors of the FOX 11's Holiday Lights program:
Nordstrom Rack
Studio Movie Grill.
To send us a video of your lights display, follow these easy steps:
1) Record video of your holiday lights display. If you're recording with your phone, please shoot your video in horizontal or landscape mode. In other words, turn your phone like a TV screen, NOT like a Snapchat or Instagram Stories post.
2) E-mail the FOX 11 news team at fox11news@foxtv.com with the following subject line: HOLIDAY LIGHTS
In the email, please attach your video and give us a brief description and backstory of your light display! We prefer you use your own email address and phone number so we can contact you if we have questions. Don't worry - we WILL NOT sell your information, this is for communication only.
If your video is too big to send by email, we recommend using other file storage programs like YouTube, Dropbox, WeTransfer, Google Drive, Box, etc. Just send the link to those services in the email that you send to us.
That's it! We hope to feature your display between now and the Christmas holidays on FOX 11 News and on foxla.com right here on this page.
Thanks for watching FOX 11!